The goal of a Bayhealth nurse is to achieve nursing excellence through advocacy, empowerment and collaboration. We are proud to be among fewer than 500 hospitals worldwide that have achieved Magnet® designation for the highest level of excellence in nursing care. The American Nursing Credentialing Center (ANCC) has recognized us for excellence in leadership, nurse-physician collaboration, patient satisfaction, evidence-based practice, and commitment to person- and family-centered care.

As part of our drive to improve the health of the community one life at a time, Bayhealth follows Planetree International's approach to person- and family-centered care. Through these principles, our team members encourage patients and families to be active participants of the healthcare team — helping to make decisions about their care or the care of a loved one.

Our nurses work in a multi-disciplinary environment and have proven their expertise by achieving certifications in their specialty areas such as:
Acuity Adaptable
Acute Medicine
Cancer Care
Care Management
Critical Care
Dialysis
Emergency and Trauma
Float Pool
Informatics
Inpatient Rehabilitation
Nursing Education
Perioperative Services
Procedural Nursing
Vascular Access
Women's Services
Our Commitment to Nursing Staff
Bayhealth's commitment to nursing excellence drives our leadership to provide our nurses with ample opportunity for career growth. The benefits of being a Bayhealth nurse include:
Working with transformational leadership under the expertise of our Chief Nurse Executive, Brenda Blain, DNP, RN, FACHE, NEA-BC
Access to a nationally recognized Professional Nurse Portfolio Program
Ability to participate in nurse-driven councils and committees
Flexible work schedules
Educational opportunities, such as succession planning
Programs for reward and recognition
Professional Development
The Professional Nurse Portfolio Program© is an exciting and dynamic means of capturing your contributions to nursing that are not ordinarily highlighted but are central to the theme of being a professional nurse. As professionals, there are many clinical and non-clinical initiatives that we do routinely to advance and improve the image of nursing. Participation in the Professional Nurse Portfolio Program© gives you the opportunity to highlight your individual contributions and commitment to your career.

We also offer tuition reimbursement to qualified hires along with in-house seminars, workshops and access to continuing education credits via our HealthStream® education platform.
Inpatient Nurse Residency Program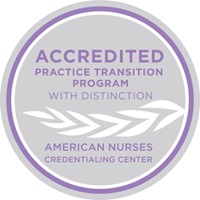 Bayhealth's Inpatient Nurse Residency Program is accredited with distinction by the American Nurses Credentialing Center (ANCC) Practice Transition Accreditation Program (PTAP). The six-month program facilitates a smooth transition to practice for new nurse graduates and nurses with less than 12 months of acute care experience and helps bridge the gap between novice/non-acute care nurses and practicing nurses. Residents will attend a unit orientation as well as monthly classes focused on skill development and role adjustment. The evidence-based curriculum offers residents a collaborative learning environment to successfully transition into practice. Residents will also have the opportunity to work alongside experienced staff and learn in a real-life setting to be better prepared and more confident as they enter the workforce. To learn more about the Inpatient Nurse Residency Program and how to apply, please send an email to Nurse_Residency@Bayhealth.org and one of our program coordinators will be in touch.
Job Shadowing
To ensure potential nurses choose the right specialty to work in, Bayhealth offers a Job Shadowing Program. Our Job Shadowing Program allows a nursing applicant to gain realistic career information. This program will aid the participant in making career choices by observing an employee (RN) perform their professional duties. The Job Shadowing Program includes an application process.

For more information on becoming a nurse at Bayhealth or about any of our learning opportunities, email Careers@Bayhealth.org.