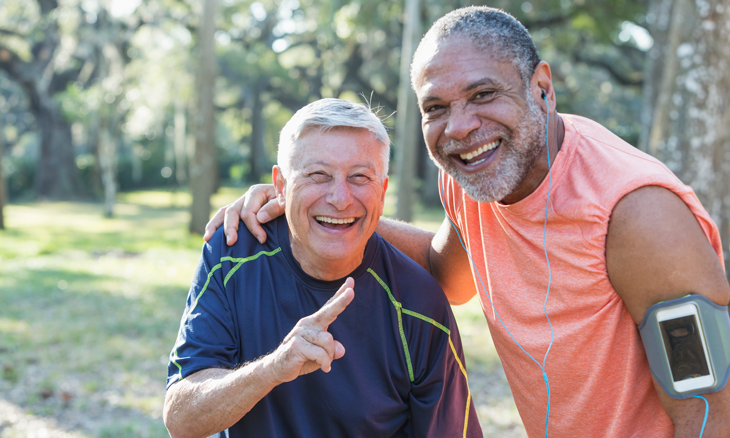 Making exercise a passion
There's such a thing as a positive addiction, especially when healthy eating and exercise choices become a daily habit. Primary Care Physician Anita Bapat, MD, with Bayhealth Primary Care, Milford, suggests cultivating positive lifestyle habits to the point where they become a necessity, just like brushing your teeth in the morning.

She offers some suggestions to help people develop a healthy lifestyle.
Getting Started
Do a 30-minute daily workout in any form. She reminds people not to confuse exercise with exertion. Exercises can vary, and can even include yoga. "Exercise is not just for your heart, it's for general well-being," she said.

People who are new to daily exercise can start gradually. Try 10 minutes a day to start, work up to 30 minutes. "Once you're addicted, it will become just like taking a shower," Dr. Bapat added.

Don't rush into vigorous exercise without warming up first. "This prevents injury," she said. Likewise, build in a time at the end of the exercise session to calm down.

For people who are uncertain about what type of exercise will be most beneficial or wondering how to avoid injury or sequence a workout, Dr. Bapat advises seeking help by working with a trainer.

She reminds people that there are other options, such as taking a Zumba class.
Avoid Boredom
Eating correctly and exercise work together to yield results. Dr. Bapat warns against eating a heavy meal just before exercise; the body will be working to digest food rather than burn calories. "The ideal time is early in the morning or right after work," she said.

Exercise doesn't need to become boring or routine, because there are many options available. "Balance and complement," said Dr. Bapat, who recommends combining walking and running with weight training and Pilates. "Challenge yourself with different routines, and your body will become more effective at losing weight," she said.
Seek Support
Information and encouragement can also come from other experts, such as certified dietitians or nutritionists. "They can teach you what foods to avoid," she said.

Speaking of food: Don't use the word diet. Have a calorie plan, Dr. Bapat suggests. Making exercise a passion Don't eat a heavy meal immediately after exercise. "Give yourself 30 minutes to allow the body to calm down," she said.

And there's a bonus, once exercise becomes a habit, "You will see a difference in yourself, and eventually you will feel less hungry." This is just one benefit that can't be measured with a tape measure or on the scale.

Stick with your exercise routine and healthy eating habits and they'll become a healthy craving. You may also find yourself sharing tips with others. "People become more aware, aware of a healthy lifestyle, and they will begin promoting it," said Dr. Bapat. "It will become a topic in meetings and in the workplace, inspiring people to stay with the routine."

Visit Bayhealth's Find a Doctor page or call 1-866-BAY-DOCS (229-3627) to find support from a Bayhealth physician.
Share This With Your Friends