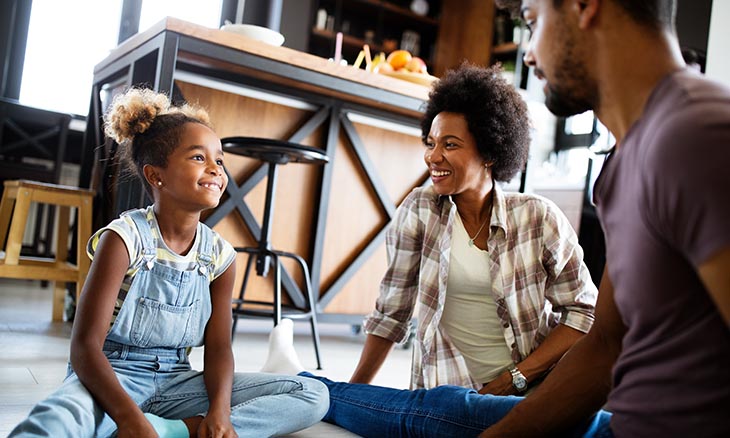 COVID-19, Children's Health, Mental Health
Parenting in a Pandemic: Values that Benefit the Whole Family
As joyful as parenting is, we also know how difficult it can be. Raising children during a pandemic adds yet another layer of complexity. That's why Bayhealth is here with helpful parenting tips from
Su Chafin, NCC, LPCMH
, a behavioral health practitioner with Bayhealth Family Medicine, Dover. This is the second of three stories in our
Parenting in a Pandemic
series geared to support our community families. Chafin said that kindness and respect are core values that should guide us as we take care of our families and allow everyone to thrive. And that begins with us taking care of ourselves as parents.
Good self-care fosters good parenting
Being kinder to yourself naturally leads to being kinder to others, and this includes your inner dialogue, explained Chafin. Parents should know it's okay to give themselves a break—figuratively and literally. This means not being so self-critical. It also means regularly enjoying an activity away from the family or just taking a break for some alone time so you can recharge and be in a better head space as a parent. This also avoids having your own stress affect your children. "Taking care of the parent is a very important strategy in parenting and one of the best gifts you can give your kid," said Chafin. "Couples should schedule weekly or monthly times and trade off. Make sure both of you get breaks away from the children. Your children will appreciate a calmer and more centered parent to interact with upon your return, so it is in their benefit as much as it is in yours. Losing yourself in your children and their activities isn't good for either one of you. Being present is."
Consistency is key
Most experts agree that consistency is an important theme when raising children. Children are learning at every stage, so having a clear idea of what is expected of them and what to expect is beneficial to their emotional development. That's why routine and rituals are such useful tools for families. The same is true when it comes to setting and enforcing guidelines. Disagreements are bound to happen, but it's essential to establish rules for fair fighting in your home. "If you are co-parenting with someone else, you may not always be on the same page on how to parent. But you can support each other and be a united front to the children by having those discussions behind closed doors or seeking individual, family or couple's therapy. It's best to work on these concepts before it becomes too late," advised Chafin.
Respect all around
Sometimes we need to remind ourselves that children are people, just in a smaller body, and that all people deserve to be treated with respect. "Even if children may struggle giving it, they too deserve respect," Chafin said. This is an important element that helps a child build a healthy self-concept. A parent can still address unacceptable behavior and discourage it from happening while still being respectful to a child in their language and manner.
Let's face it, we all have challenges, no matter our age, so having family that serves as a base of unconditional love and support can help us through. "Let your home be a safe haven and a soft place to land for all its members," said Chafin.
Chafin provides a range of emotional health services and counseling to help patients of all ages at Bayhealth Family Medicine, Dover, located at 1074 South State Street. Focused on compassionate care to keep the entire family healthy, this practice also includes physicians who specialize in family medicine, OB-GYN care and geriatrics. All providers at the practice are taking new patients. To schedule an appointment please call
302-725-3200
or visit
Bayhealth.org/Family-Medicine
for more information.
Share This With Your Friends