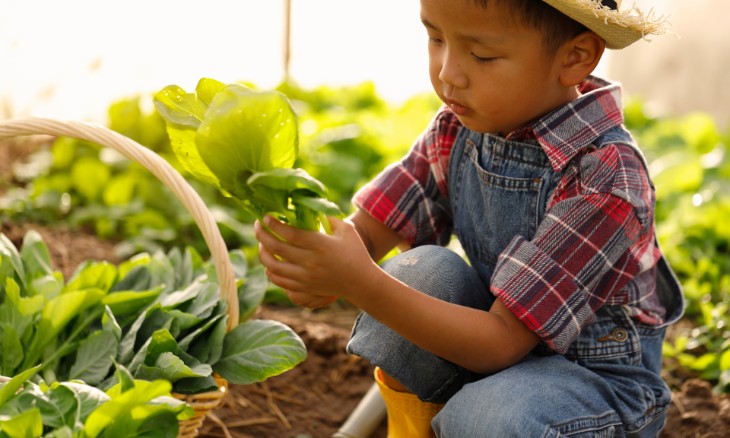 Mental Health, Seasonal Tips
Dirt Therapy: Benefits of Gardening for Mental Health
Everyone loves the taste of a garden-fresh vegetable; especially if they worked diligently to grow it themselves. The hard-earned harvest is not only a delicious reward but a physical one as well according to Bayhealth Family Medicine Physician
Brintha Vasagar, MD
. It is proven that time spent working in the dirt and warm summer sunshine are valuable to your wellbeing.
Here are some of the benefits that gardening can have specifically on your mental health according to Dr. Vasagar:
Spending time in the garden significantly reduces anxiety.
It's a lot easier to forget about your endless to-do list when you are focused on caring for tender, new life. "The connection to nature helps us to feel grounded and more stable. Also, endorphins—happy hormones— are released with physical activity, like the labor of tending of a garden," explained Dr. Vasagar. This helps to significantly lower stress in both mind and body.
Accountability is established.
A garden requires maintenance consistently, if not every day. This means that you're getting outside more often for an intentional amount of time. "It can help create a rhythm in your life that maybe wasn't there before. Building accountability in one area of your life can overflow into other habits as well," said Dr. Vasagar.
Resilience is developed in us.
Nature has an amazing way of bouncing back from harm. Whether it be from an animal tearing into the garden for a snack or a destructive summer storm, regrowth often comes back bigger and stronger. "It can bring a different perspective to us as we figure out ways to allow the challenges of life make us stronger," explained Dr. Vasagar.
Patience and perseverance are developed in the process.
Excitement builds as you watch a little sprout grow bigger and bigger each day. One day it has a bloom that will soon turn into a fruit or veggie, and endurance develops in you knowing the good things are coming. Waiting is easy because you see the progress of how far each plant has come.
Great satisfaction comes from helping a seed grow into a bountiful harvest.
"It can help those who struggle with depression to feel a great sense of purpose, knowing their time and hard work produced something good," said Dr. Vasagar. Focusing on something positive helps keep you from focusing on yourself, which can often turn negative.
To get started, look online for the best plants to grow in your area. You can even create a Pinterest board for inspiration. Head to your local farmstand or home improvement store to get the supplies needed. After a few weeks, you'll be enjoying the harvest.
Dr. Vasagar is a family physician at Bayhealth Family Medicine, Dover where she cares for patients from newborn through every stage of life. The practice is also home to mental health specialists and physicians who care for OB patients. They are now accepting new patients. Visit
Bayhealth.org/Family-Medicine
or call
302-725-3200
.
Share This With Your Friends