Sensory-Friendly Environment for Patients With ASD
Wednesday, July 1, 2020
|
All Categories, Emergency Care
Needing urgent medical care can be a stressful situation for anyone. For those with autism spectrum disorder (ASD) or other developmental disabilities, visiting a crowded Emergency Department (ED) waiting room can easily cause sensory overload, making it difficult for these patients to function. To better accommodate them and their caregivers, Bayhealth Emergency and Trauma centers at both Kent and Sussex campuses and Bayhealth Emergency Center, Smyrna have created sensory rooms.
Each room is equipped with sensory-friendly items including dim lighting, a calming LED light projector, weighted vests, noise-canceling headphones, a tablet with special communication applications, a robotic seal, and social stories — booklets to explain common procedures using imagery and simple language. They've also added new tools and staff training to reduce the obstacles faced by patients with ASD and their caregivers.
ED Nurse Derek Sheets, RN, has a passion for working with and on behalf of people with special needs and first suggested the idea. The Patient Experience Champion Team and the EDs teamed up to form a steering committee of subject matter experts, and a focus group comprising parents of people with ASD, to guide a process to make it a reality. "To avoid families having to leave without being taken care of, or having to drive further for treatment, we can now offer this room," said Sheets.
Kimberly Hopkins, a focus group member and mother of a 10-year-old with ASD, said she was impressed by Bayhealth's drive to better serve people with special needs and meaningfully involve their families in the project. "Bayhealth did a great job. They were very inclusive, asking our group for feedback on every aspect and applying it to create positive change," said Hopkins.
Speech Pathologist Arielle Allentoff, MS, CCC-SLP, helped develop the social stories, which team members have found useful not just for those with ASD, but children of all ages, as well as adults with dementia or intellectual disabilities. ED Senior Nurse Manager Brad Crabtree, MSN, RN, CEN, said all ED staff now have mandatory ASD education. And there's a process for adding notification to electronic health records for these patients to aid in their future care. "This is helping achieve better outcomes and is directly related to the patient experience, which is a priority for us," said Crabtree.
Hopkins emphasized the community impact of these new sensory-friendly protocols and rooms. "It means so much knowing that if my son needs emergency care, we can go to a safe and private space that won't be overwhelming to him, and to me as his parent," she said. "This will help so many people on the spectrum and their families feel more supported in our community. This is what patient-centered care truly means."
Bayhealth welcomes families of those with ASD or other developmental disabilities to arrange a time to visit the ED, to help increase familiarity for potential visits in the future.
If a member of your family has ASD and would like assistance at Bayhealth, call Brad Crabtree at 302-744-7297 to make arrangements.
---
Reducing Anxiety With Robotic Seals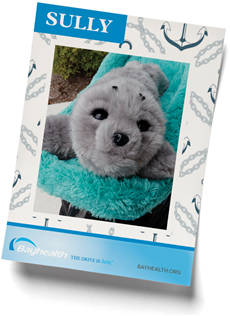 Two new members recently joined the pet therapy team — Klondike Bar and Sully, both of which are therapeutic robotic seals. Each hospital has one seal. Klondike Bar is at Bayhealth Hospital, Kent Campus and Sully is at Bayhealth Hospital, Sussex Campus. Each seal has a main handler and can be requested through Patient Advocacy. The goal is to make the seal visit a therapeutic treat. At the end of each day, the seals go through an extensive cleaning process.
Lead Patient Advocate Jane Hewitt has already seen the benefits of the seals on patients. "They have a calming effect. They're also interactive and respond to patients when they're spoken to," Hewitt said. "Caring for patients is about the body, mind and spirit, and our use of the seals supports that. This very much fits into our Planetree philosophy of care." Along with using them for dementia patients, Hewitt said the seals can also be used for patients with autism spectrum disorder.
Use of the robotic seals is just one example of the work Bayhealth team members do to follow the Planetree philosophy of care. Bayhealth is a Planetree-recognized organization, and follows Planetree's mission to make patients partners in their care.
Visit Bayealth.org/Planetree to learn more about how Bayhealth became a Planetree-recognized healthcare system.
Share This With Your Friends