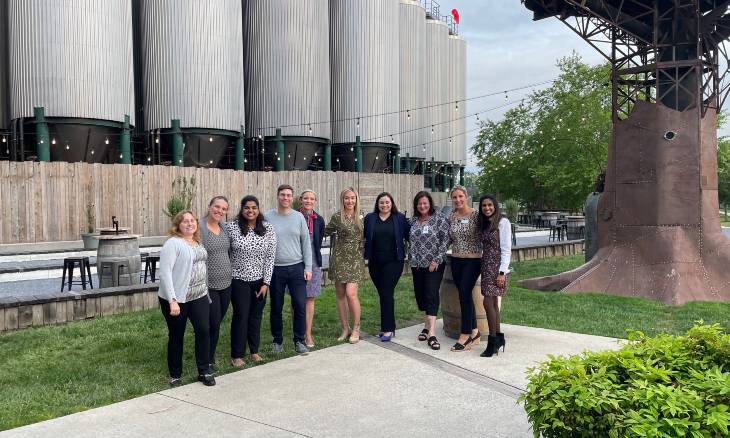 Dogfish Head Event Connects Bayhealth Donors with Graduate Medical Education Residents
Thursday, August 4, 2022
|
Bayhealth Foundation
The Bayhealth Foundation recently hosted a donor event at Dogfish Head Brewery highlighting Bayhealth's Graduate Medical Education (GME) programs, giving donors the opportunity to meet with GME leaders and residents. Donors were able to meet with Family Medicine Program Director Brintha Vasagar, MD; Internal Medicine Program Director Joseph Deutsch, MD; GME Simulation Lab Program Manager Sarah Beebe, MSN, CNM, WHNP-BC, CHS; and several first-year residents. The Family Medicine and Internal Medicine programs were launched in 2021, and the General Surgery program was introduced this year.
Bayhealth Foundation Director of Development Chuck Desch said the event provided an opportunity to thank donors and explain what the GME programs mean to the community and how the added physicians will ultimately help reach 50,000 patients when the programs are fully operational.
"The Bayhealth Foundation appreciates every donor that has contributed to our programs," said Bayhealth Foundation President Lindsay Rhodenbaugh. "Their gifts allow us to continue providing the best care to our patients."
Visit BayhealthGME.org to learn more about the residency programs offered at Bayhealth.
Share This With Your Friends