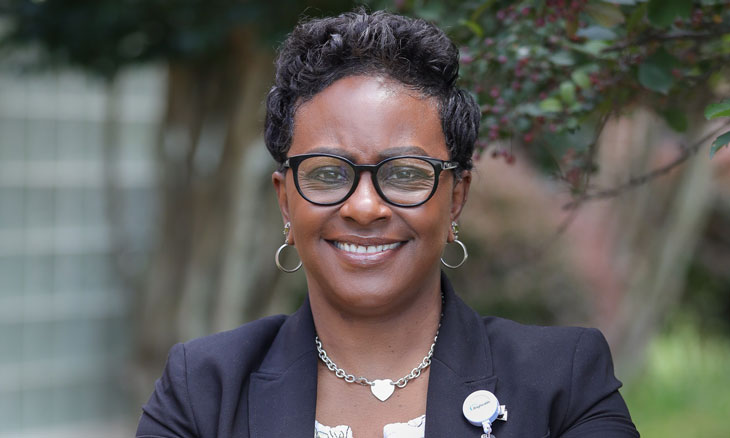 Bayhealth Welcomes its First DEI Manager, Debbie Smith
Tuesday, September 26, 2023
|
Bayhealth welcomed its first manager of diversity, equity, and inclusion (DEI) in February of this year. Rejoining the health system in her new post (she served for seven years in accounting-related roles), Debbie Smith, MBA, brings deep experience in community affairs and engagement, as well as special training in DEI.

In managing all things diversity, equity, and inclusion for the 4,000+ employee enterprise, she is in the midst of developing and implementing a DEI strategic roadmap/overall framework that aligns with the strategic goals of Bayhealth.

A North Carolina native, Smith made Delaware her home years ago when her husband was in the military. After he retired from the US Air Force, they both remained in the first state with their family, and Debbie has embraced taking an active role in making Delaware a better place.
In addition to her work at Bayhealth, she volunteers extensively in the community, serving on the board of directors for Meals on Wheels Delaware, YMCA Dover, and the American Heart Association (supporting the Go Red for Women and STEM Goes Red events). She was also appointed to the Governor's Commission on Community and Volunteer Service by Delaware Governor John Carney. In addition, she serves on the Central Delaware Chamber of Commerce Legislative Affairs Committee and is a committee member of Delaware's Advancing Healthy Lifestyles initiative. She is also a member of Delta Sigma Theta Sorority, Inc., and has served in various leadership positions with the Dover Alumnae Chapter.

With a BS in accounting from The University of Southern Mississippi and an MBA from Delaware State University, Smith went on to receive a certificate in diversity, equity, and inclusion from Cornell University in 2020. She also plans to pursue a Doctor of Business Administration degree.

Along with her passion for her work at Bayhealth and serving on boards and committees to make a difference in the community, Smith enjoys a wide range of pursuits. A few of them include spending time with family, providing financial literacy education through local organizations, reading, Scrabble, watching movies, shopping, and traveling.

More About Debbie Smith, MBA:

Who were your three greatest influences while growing up and why?
My maternal grandmother, Lovie King Hart: She was the strong matriarch in our family. She always promoted achieving and receiving a formal education so that you could use your knowledge, skills, and abilities to make a difference in this world and give back to your community.
Harriet Tubman: After escaping slavery herself, she was able to rescue other enslaved people, including her family and friends. I was impressed by her grit, tenacity, ingenuity and her unwavering faith in God, to include her activism in the movement for women's suffrage.
Rev. Dr. Martin Luther King Jr.: He was one of the most prominent leaders in the American civil rights movement, who was inspired by his Christian beliefs and the non-violence activism of Mahatma Gandhi.

What is the best thing about living in this period of time?
Advancements in technology and information that you can retrieve via the world wide web has provided us with a plethora of information that is available at our fingertips. You can explore different parts of the world without having to leave the comforts of your own home.

What is your philosophy or mantra?
I wake up every day thinking, "How am I spending my time — what can I do to make a difference in this world today?"

What made you want the role that you have at Bayhealth?
I truly believe that diversity, equity, and inclusion matter in the workplace. Everyone should feel seen and heard, feel comfortable with bringing their whole self to work, and be able to work in an environment where they are able to thrive and not just survive. I love seeing people be the best version of themselves that they can be, soaring to their fullest potential.

What are you finding most rewarding about your new role?
Being able to share those nuggets of wisdom with my teammates and provide them with tools that they can add to their DEI toolkit.

What advice do you have for people working in healthcare?
Give of yourself, while you can, when you can, for as long as you can. Tomorrow isn't promised to any of us.

How do you define success in life?
Being able to make a difference in this world. I would love to leave this world better than I found it, leaving my footprints as an impression.

Is there anything else you'd like to share?
I believe that we are all put on this earth for a reason. It's not just by happenstance that we were born during this time, and we aren't here to just take up space in the universe. Find out what your "Why" is and go for it with all the energy that you have within you. Work hard and be kind!
Visit Bayhealth.org/careers/dei to learn more about diversity, equity, and inclusion at Bayhealth.
Share This With Your Friends