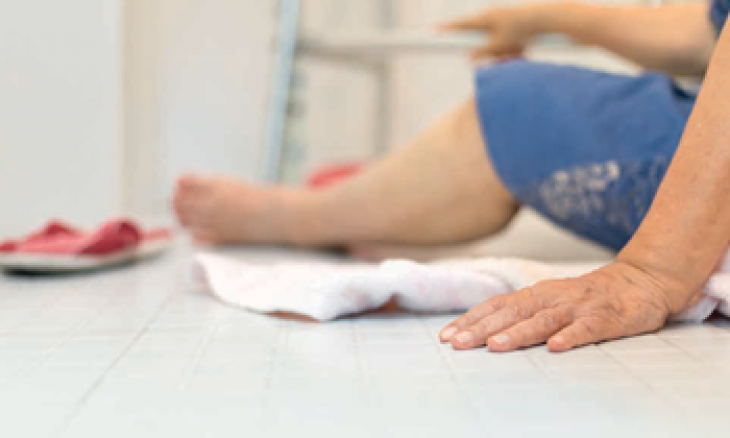 Preventing falls for seniors
Every 11 seconds, a senior visits an emergency department because of a fall. More than one-third of adults age 65 and older fall each year. Falls have a big impact on seniors, both physically and emotionally. Many people will let a fear of falling impact their daily life. They become less active and more reclusive. While the statistics are pretty scary, the truth is, falls are preventable. Diana Curtis, RN, MSN, trauma registrar at Bayhealth and member of the Delaware Falls Prevention Team, offers simple steps everyone can take inside and outside their home to reduce fall risk.
STAIRS:
Make sure stairs are well lit and that a handrail is available the entire length of the staircase. Consider adding contrast to the stairs by placing strips of color at the end of each step. Remove clutter like shoes, clothes, magazines, etc.
FLOORS:
Like stairs, floors need to be free of clutter. This could include things like piles of books and magazines or cords and electronics. Area and throw rugs can also be problematic. If the rugs must stay, secure them with nonskid tape. Choose slip-resistant rugs for bathrooms and kitchens. If you have a pet, place food and water bowls in an area where they won't be a tripping hazard.
FURNITURE:
Arrange furniture so you have a clear walking path around it. In the bedroom, ensure your bed is the proper height — it should be easy to get in and out of. You may also want to install bed rails that offer stabilization while getting in and out of bed.
OUTDOORS:
Outdoor lighting can be helpful, particularly on paths in and out of the house. It's also important to know weather conditions, and be ready for wet or slippery areas outside.
OTHER MEASURES:
Have your medications checked at least once a year by a pharmacist or medical provider. You should also have your eyes and ears checked once per year. There are also exercise and balance programs available. "Matter of Balance" classes are offered throughout the state by Volunteer Delaware 50+.

If you're concerned about falling or want more information about assistive devices, talk to your primary care physician.

If you are in need of a primary care physician, call 1-866-Bay-Docs to learn about providers in your area. For more information about resources available through Bayhealth, go to Bayhealth's Classes and Events page.
Share This With Your Friends