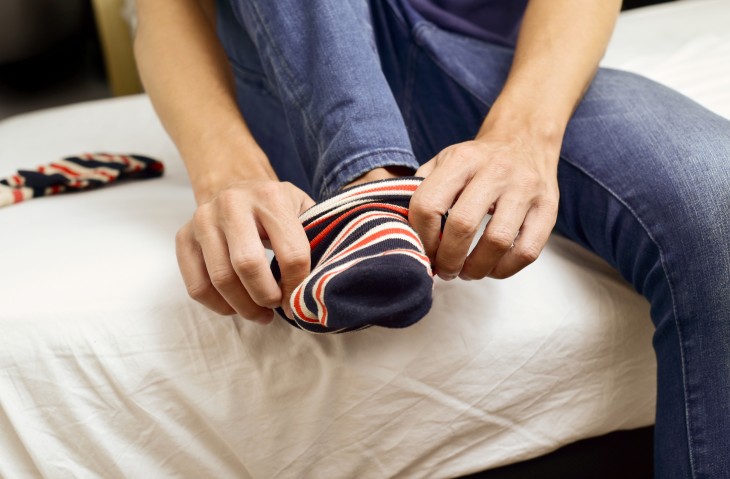 Diabetes Management, Wound Care
Diabetic Patients Need to Care for Their Feet
April is National Foot Health Month, and Nira A. Madisi, MD, a Bayhealth endocrinologist, advises patients with diabetes to pay attention to their feet every day.

Endocrinologists diagnose and treat hormone and metabolic disorders, including diabetes and thyroid diseases.

Dr. Madisi offers a few tips to prevent infected foot wounds associated with diabetes:
Don't go barefoot. Patients with diabetes frequently have decreased sensation in their feet (and hands) due to neuropathy. Wounds become infected and difficult to treat due to poor circulation.
Check your feet every night before bed. Be sure to look under your feet for cuts or bruises.
Keep your blood sugar under control by eating a healthy diet.
Patients who develop neuropathy should see a podiatrist (a doctor specializing in foot care). These doctors treat infections or wounds in the feet and are able to order special shoes to protect the feet. Neuropathy starts in the extremities (fingers and toes) and moves up.
Wear proper fitting shoes that are not too tight. The shoes should provide ankle support for people with neuropathy. Medicare Part B covers the cost of one pair of shoes per year for diabetic patients.
"If there is a wound, seek medical attention right away. Don't wait to see if it gets better," said Dr. Madisi, adding that amputation could possibly be the result of neglecting a wound.

Dr. Madisi also advises patients with diabetes to encourage their family members to get tested for the disease which can be controlled with a healthy diet and exercise, in addition to medications.

To learn more about Dr. Madisi, visit Bayhealth's Find a Doctor page or call our physician referral service line 24 hours a day, 7 days a week at 1-866-Bay-Docs to be matched with a doctor who meets your needs.
Share This With Your Friends