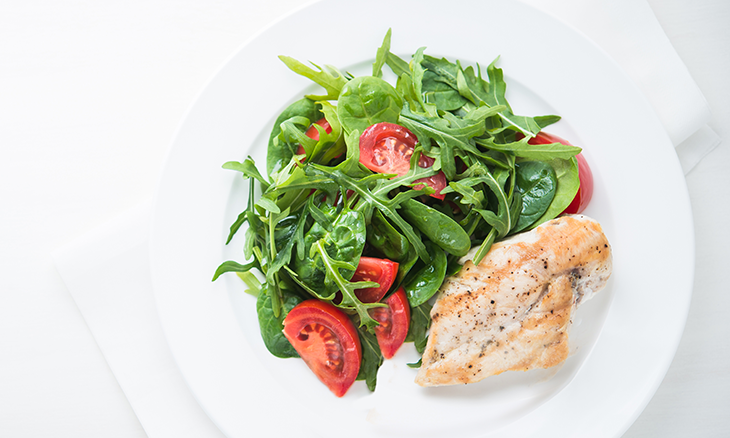 Six simple steps to managing diabetes
When it comes to diabetes, Bayhealth Endocrinologist Nira Madisi, MD, usually tells her patients it's treatable but not curable. "It's a condition that one has to live with every day, but making small changes can help. The key is to try to make one or two small changes each month," Dr. Madisi explained. "If you make little changes, you tend to stick to them over the long term, and that's what's most important."

According to Dr. Madisi, people with diabetes should also know if they can get their hemoglobin A1c level to 6.5–7 percent, they can almost guarantee they won't have to worry about any diabetes complications such as blindness, amputation, heart attack and stroke, dialysis, and death.

Here are the steps Dr. Madisi recommends people with diabetes take to manage their condition and maintain their quality of life.
BE MINDFUL OF YOUR DIET
What you eat has a direct impact on your blood sugar, which is why making dietary changes is a good place to start. Dr. Madisi's basic dietary dos and don'ts for people with diabetes are as follows.

Do: Eat brown carbohydrates such as brown rice, wheat bread, and whole-grain pasta. "Also look for brands of these foods that have higher amounts of fiber, which will help keep your blood sugar balanced," she said.

Don't: Eat white carbohydrates such as white rice and white bread. "White potatoes are a big no-no," said Dr. Madisi. "You need to switch to sweet potatoes and/or mashed cauliflower, because they have a lower glycemic index, which means they won't cause your blood sugar to spike."

When it comes to your diet, you need to consume as little sugar as possible.

Dr. Madisi says it's also important to know what your plate should look like. "The amount of carbs should be the size of a fist, half of your plate should be filled with green veggies, and a quarter should contain lean meat."
BE ACTIVE
"The amount of activity or exercise that anyone should do, including people with diabetes, is 150 minutes per week," Dr. Madisi explained. "The activity is supposed to get the heart rate up. For example, you should be able to walk a mile in 20 minutes."

For those who aren't able to do brisk walking, Dr. Madisi recommends chair exercises. "You can also use milk cartons filled with water instead of weights. Cycling and swimming are other options, especially for people with hip or knee problems."

You also need to avoid sitting for prolonged periods. "Sitting is really bad — just as bad as smoking in some cases. Even just walking around during TV commercials or standing up at your desk from time to time can help."
TAKE CARE OF YOUR FEET
Beyond diet and exercise, Dr. Madisi says it's essential that people with diabetes check their feet every day, and if they see any wounds, they must seek medical attention right away. "If wounds aren't treated in a timely fashion, you run the risk of amputation."
LOSE WEIGHT
Since people with type 2 diabetes still make insulin but their bodies are not using it effectively, they may be able to come off medications with early lifestyle changes and weight loss.

"To safely and effectively lose weight, you need to increase your level of daily activity and be mindful of how many calories you're consuming," she explained. "You need to walk 10,000 steps or about five miles per day to lose weight. I also encourage my patients with type 2 diabetes to use apps on their smartphones to track their calorie intake. People don't realize how much they actually eat calorie-wise. They also have apps that provide 12-minute workouts, so there's no excuse — weather, time, etc. — when it comes to exercise."
BE COMPLIANT WITH MEDICATIONS
Although the body still produces insulin in type 2 diabetes, this is not the case for type 1 diabetes. "Since people with type 1 diabetes aren't producing insulin at all, it is critical that they be compliant with their insulin," explained Dr. Madisi. "Otherwise they could end up in an emergency situation because they are at a greater risk of serious problems and could even be hospitalized if they don't take their medications as prescribed."
TAKE CARE OF YOUR MENTAL AND EMOTIONAL WELL-BEING
"I also tell my diabetic patients I know they aren't perfect and it's normal to feel frustrated and even depressed at times," Dr. Madisi said. "That's why it's important to take care of your mental and emotional well-being, not just physical. This can be accomplished through support groups and individual counseling, if necessary."

Visit Bayhealth's Diabetes Management page to learn about diabetes education and support available to persons with type 1, type 2, and gestational diabetes.

If you need a physician, visit Bayhealth's Find a Doctor page or call 1-866-BAY-DOCS to learn about providers in your area.
Share This With Your Friends