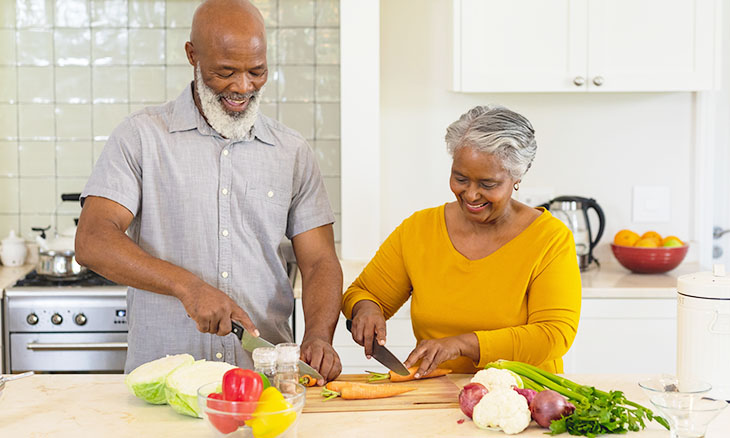 Nutrition, Heart & Vascular
What, where, how you eat can improve cholesterol count
It's all about your plate! When patients ask about how to lower cholesterol numbers from good — less than 200 total — to great,
Bayhealth Family Medicine, Smyrna
's Mannpreet Phambri-Komal, MD, explains that positive changes are mostly "diet driven."
First, she encourages patients to recognize the difference between types of fat: mono and polyunsaturated fats are the good fats, said Dr. Komal. She suggests patients use olive oil and select salmon, sardines and tuna in order to limit saturated fats and foods containing trans-fatty acids, like processed foods and baked goods.
Dr. Komal asks patients to visualize a plate, then decide how to create a meal on that plate. "One half the plate will be fruits and vegetables. One quarter is whole grains, and the other one quarter will be for lean protein, such as chicken, beans or lentils." In addition, Dr. Komal said to select fruits and vegetables containing high-soluble fiber, such as apples, broccoli, carrots, beans, and peas.
Where you eat is also important. Eating more home-cooked meals allows people to control what's on their plate, said Dr. Komal, noting that self-preparation is a way to limit fried foods, sugar and starches. Patients can be more selective with cooking techniques, using broiling, grilling and baking as alternatives.
When it comes to vegetables, "the fresher, the better," said Dr. Komal, and fruit should be all fresh.
Yes, this is a lot of information to digest, so Dr. Komal provides her patients with an illustration of good food choices, as well as of what should be restricted. "Not all cholesterol is bad," she said.
To help patients track their progress, she suggests screenings (blood tests) starting at age 35 for men and age 45 for women; some patients may have additional risks for heart disease, including family history, diabetes, smoking, and elevated blood pressure.
Dr. Komal also recommends regular exercise: "Moderate intensity for 150 minutes a week. I recommend they choose an exercise they enjoy — brisk walking, jogging, swimming, dancing, or sports. If they say there's no time, they can use the stairs or walk on their break. And drink plenty of water."
For more more valuable tips on all things health and wellness, visit the
Community Health and Wellness
page.
Share This With Your Friends