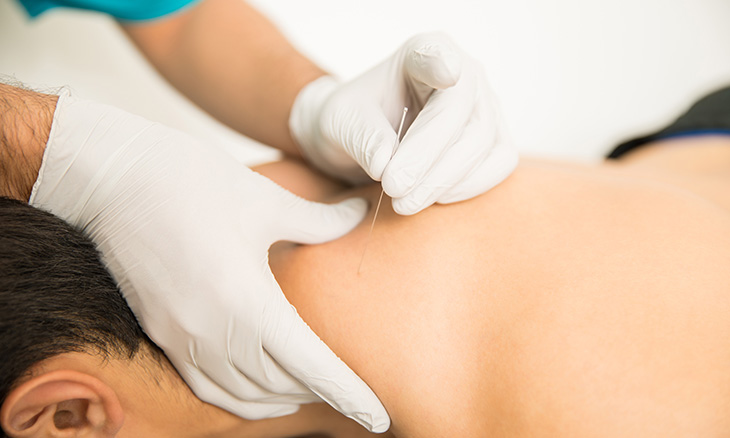 Outpatient Therapy, Bone & Joint, Orthopedics
Dry Needling Therapy Offers Relief for Acute Pain
When
Bayhealth Hospital, Sussex Campus
Day Surgery Scheduler Charyl McNulty developed debilitating low back pain that impeded her ability to move and function at home or work, she found substantial relief and healing in the smallest treatment method possible. McNulty visited
Bayhealth Outpatient Rehabilitation, Sussex Campus
for a thorough neuromuscular and skeletal assessment. Part of the assessment included education about dry needling as a possible treatment option.
Bayhealth Physical Therapist Josh Smith, PT, DPT, says dry needling can be very effective in reducing discomfort for patients with acute injuries. In addition, dry needling is a treatment that does not involve opioid medication. Two physical therapists at Bayhealth Hospital, Sussex Campus, Smith and M. Scott Richards, PT, DPT, have received board-certified training in the technique which involves the needle being placed specifically in a muscle; nothing is injected into the skin. The treatment is designed "to improve discomfort and address the source of the problem. It's another tool to minimize disability," Smith explained.
Daily strain, bad postural habits, weakness or trauma can frequently be the root of trigger points or irritable knots that send waves of pain throughout the body. In McNulty's case, the pain was constant. "I could only sit or stand for five minutes at a time due to the pain in my back and into my leg," she said. When pain prevents normal mechanical movement, a downward spiral of breakdown promotes that cycle of pain. However, with the utilization of dry needling under the right circumstances, it can provide the necessary jolt to get the body back on track, Smith said.
The practice of dry needling in its simplest form uses a thin needle to stimulate tight muscle fibers and encourage greater neurological and muscular support to facilitate more normal daily movement. In doing so, this stimulation forces these trigger points to release with effects being felt almost immediately, Smith explained. McNulty's experience confirmed that. "I felt about 80 percent better and no longer needed pain medication after the first treatment session," she said.
Minimizing the impact of injury, creating lasting improvements and avoiding over-utilization of medication to treat physical ailments are just a few of the benefits associated with this treatment option. With therapists at both Bayhealth's Kent and Sussex campuses trained in dry needling as a part of a treatment plan, patients now have a better option to resolve the pain rather than chase it.
Visit
Bayhealth's Outpatient Therapy
page to learn more about specialized treatment for outpatients.
Share This With Your Friends