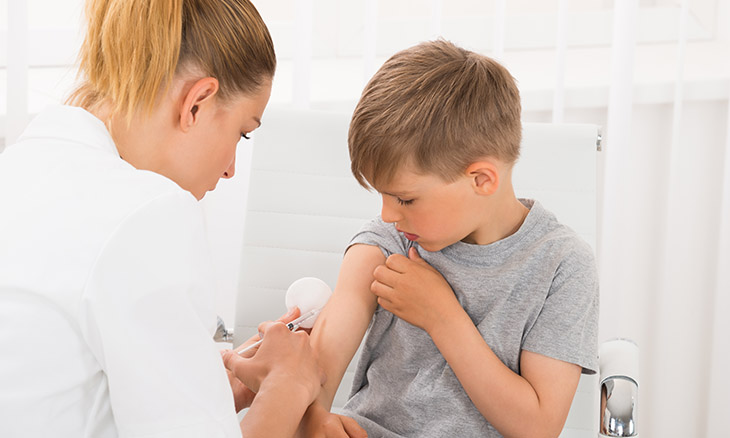 Keep Your Children Safe with Up-To-Date Vaccinations
With children in the community back in school, it's important for parents to make sure their children are up-to-date on their immunizations. Some of these vaccinations will be boosters from previous shots, while others will be annual immunizations.

"These immunizations are important because children are still building their immunity. In today's society, there are more diseases to fight off. Not getting vaccinated leads to outbreaks, such as what we've seen in recent years with whooping cough and measles," said Bayhealth Primary Care, Smyrna Physician Mannpreet Phambri-Komal, MD. "I understand parents may have concerns with immunizations, but I assure you the vaccinations are safe and effective, and have been carefully reviewed by healthcare professionals. Other than some discomfort experienced when receiving the shot, people generally do not experience complications. The benefit of the vaccines outweighs the risk of that discomfort."

Here is a list of immunizations parents should make sure their children have received:
Influenza – The flu is highly contagious and spreads easily when an infected person coughs or sneezes. Getting the annual influenza vaccine is the best protection against the flu.
Tdap – This vaccine fights against tetanus, diphtheria and pertussis. This is a five-dose vaccine with the last coming when a child is four to six years old.
IPV – This is the only vaccine that prevents polio. Children should receive the second dose of the inactivated poliovirus when they're four to six years old.
MMR – Children should receive the second dose of the measles, mumps and rubella vaccine when they're four to six years old.
VAR – Children should receive the second dose of the varicella vaccine, which can prevent chickenpox, when they're four to six years old.
Meningococcal – Children should receive the first dose of this vaccine, which prevents meningitis and bloodstream infections, when they're 11 to 12 years old, followed by the second dose at age 16.
HPV – This vaccine helps prevent six different kinds of cancer. Given in two doses, all children ages 11 through 12 should receive the immunization. If the dosage begins after the age of 15, there are three shots.
For vaccinations to be fully effective, it's important families completely follow childhood vaccination schedules. Dr. Phambri-Komal encourages families to keep a copy of their up-to-date immunization records and talk with their family doctors about what vaccines and boosters their child may need. "Even if you've missed a dose, don't be discouraged because you can catch your child up with their immunization schedule," Dr. Phambri-Komal said.

Visit CDC.Gov/Vaccines to learn more about the recommended vaccine schedules for children and adults. If you're in need of a primary care physician, Bayhealth can help. Visit Bayhealth's Find a Doctor page or call 1-866-BAY-DOCS (229-3627) to be matched with a doctor who fits your needs.
Share This With Your Friends