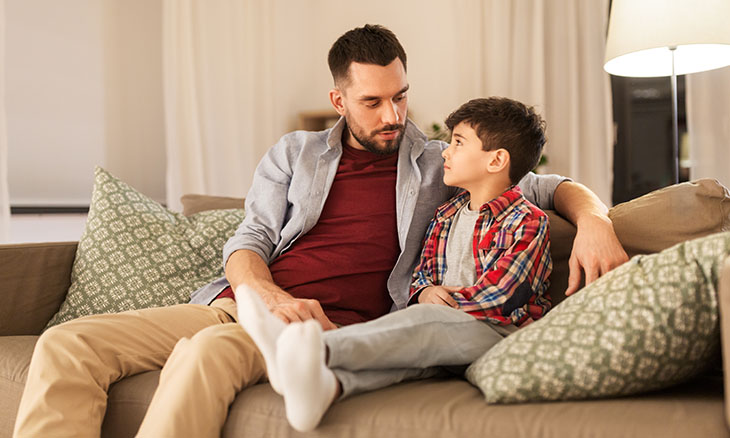 Children's Health, Mental Health, COVID-19
A Pediatrician's Advice: How to Help Kids Through a Pandemic
No matter who you are or how old you are, it's difficult to avoid conversations about COVID-19, and those discussions may create fear and anxiety in children as well as adults. Some parents may wonder how to appropriately discuss the constant news feed, and how to establish a sense of calm rather than apprehension.
Pediatrician Elsayed Abdelsalam, MD, known as Dr. Sayed to his patients, provides some concrete advice as to how to start that discussion as well as how to create a healthy, child-friendly environment during these troubling times.
As with other sensitive conversations, Dr. Abdelsalam suggests simplicity and using age-appropriate language. For a 3-year-old, for example, he suggests simplicity. "You could say 'It is a germ that makes you sick, and we have to trust that doctors will find a cure." For a 10-year-old, he recommends first asking the child what he/she knows. Seek reliable sources, such as the Centers for Disease Control & Prevention or Delaware Public Health (DPH) for accurate information. "It's OK to say, 'I don't know,' and then look up information with the child. Use trustworthy sources."
Don't communicate your anxiety with the children. "It's OK for parents to feel overwhelmed and concerned, but it is much better not to show it." Reassure them that adults are trying their best to handle the situation. Let them know that not all coronavirus situations require hospitalization. These recommendations also refer to financial stress. "Parents have to hold it together. They can adjust their lifestyle a bit so kids are not stressed more. Kids don't have to know everything."
Set time limits on the media. "Media focuses on bad things, causing more anxiety and stress. Take time to explain that not everybody who gets coronavirus has died." The DPH website shares these statistics each day.
Establish a daily routine. "It's highly recommended to have a sleep time, a wake time, time for exercise, time to go outside – at social distance." While school work is required, Dr. Abdelsalam suggests some flexibility during this time as to when it gets done. "Kids need to have some control as long as the work will get done by the end of the day."
Plan and prepare healthy meals. The focus, he suggests, should be vegetables and fruit with a bit of meat. Limit sugar and starches. "It's OK to have a cookie, but they are hard to resist. Try not to buy too much at the grocery store."
Clean hands. "Hand washing is now more encouraged especially before eating or after coming in from outside." Dr. Abdelsalam said to explain that hand-washing – for 20 seconds – is not just helping them, but other people as well. As far as measuring 20 seconds, he suggests kids "Sing the Happy Birthday or ABC song twice. Coronavirus is actually sending us back to what we were always supposed to do."
Staying at home with children. Some parents have been furloughed; others are working from home. "This can be an opportunity for family time like doing crafts, playing games, cooking together with parents' help, and eating dinner together. There is a positive for what seems to be negative. It will be OK. It's not just you, it's everybody, and we will get over it together," Dr. Abdelsalam said.
Visit Bayhealth.org/Find-A-Doc or call 1-866-BAY-DOCS (229-3627) to find a pediatrician or family medicine provider.
Share This With Your Friends