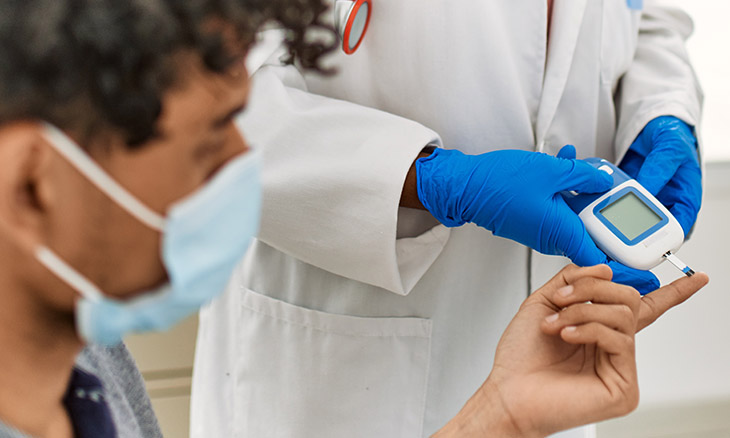 Diabetes Management, Healthy Aging
Prediabetic? Awareness, Lifestyle Changes May Reverse Disease
Has your healthcare provider told you that you have prediabetes? If so, you're not alone. According to state health officials, more than 85,400 Delaware residents over the age of 18 have diabetes and an additional 94,628 have prediabetes. The reality is, many people could have prediabetes and not even know it!
Bayhealth Diabetes Care and Education Specialist Cynthia Pajerowski, BSN, RN, CDCES, says the simplest way to define diabetes is difficulty regulating blood sugar. It's important for anyone who has concerns about their blood sugar to talk to their doctor about getting checked. Many people with issues regulating their blood sugar don't have any symptoms. The good news is, there are changes that you can make to prevent prediabetes from developing into type 2 diabetes.
"We want people to succeed. Support is important," said Pajerowski. "I tell people they can call us any time. While we do not see patients with prediabetes, we can direct them where to go for help."
Know Your Risks
Risk factors for type 2 diabetes include being overweight, living a sedentary lifestyle, being over 45 years in age, having an immediate family member with diabetes, and being a woman who has had gestational diabetes.
Follow Recommendations
Follow a lifestyle recommended for someone with type 2 diabetes. There are local prevention programs to help. Some programs are free. Programs with a cost are often covered by insurance.
Stop Smoking
Delaware residents can find support for breaking the smoking habit through Delaware Quitline at 1-866-409-1858.
Lose a Little Weight
Losing even just five to seven percent of body weight can be very helpful.
Get Active
The American Heart Association, the American Cancer Society and the American Diabetes Association recommend moderate-intensity activity for 30 minutes a day at least five times a week. Even a brisk walk makes a big difference.
Diabetes Resources
The Bayhealth Diabetes Wellness Center located at Wolf Creek can help patients control their diabetes. Along with endocrinologists, Bayhealth's team of diabetes educators includes nurses, pharmacists and a dietitian who specialize in diabetes and provide the following resources and services.
Diabetes and You
Bayhealth proudly offers an education program that is recognized by the American Diabetes Association and that meets the National Standards for Diabetes Self-Management Education and Support. Our Diabetes and You series teaches you about diabetes self-care and gives you the tools you need to manage your diabetes. We offer classes and individual appointments.
Medical Nutrition Therapy
Our dietitian will provide you with information that will help you manage your diabetes through a healthy lifestyle. You'll be able to choose foods that are healthy and taste good, too!
Pharmacist-Guided Diabetes Management
As part of the educational program, a pharmacist specializing in diabetes care will work closely with you and your doctor to help you manage your diabetes. The pharmacist will teach you about your diabetes, particularly your diabetes medications. He or she will review your blood sugars with you and may adjust your medications for better control.
Gestational Diabetes Management
Gestational diabetes occurs only in pregnant women and usually disappears after childbirth. This program teaches you about meal planning, blood glucose monitoring, exercise, medications, and more, so you and your baby can be as healthy as possible.
Getting Started
A referral from the doctor who manages your diabetes care is required. Your healthcare provider and diabetes educator will help you choose the program that best fits your needs. Day and evening appointments are available. Preregistration and an initial assessment are required for all diabetes education. There is a fee for these programs and many insurance carriers offer an education benefit that typically covers this service.
Call Bayhealth's Diabetes Wellness Center at 302-744-6307 to learn more about prediabetes or diabetes management.
Share This With Your Friends