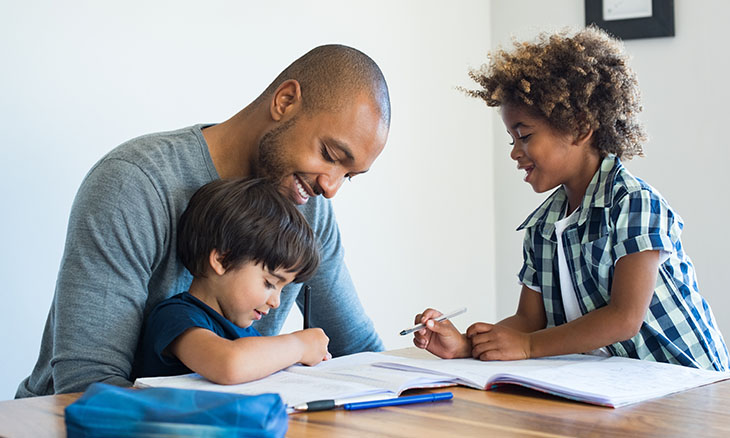 Parents are Partners! Adjusting to a New Educational Experience
Even in mid-summer, signs of back-to-school are everywhere: store shelves are crammed with notebooks, backpacks, and all the much-needed supplies. But for many students, in the wake of the COVID-19 pandemic, the thought of buying school supplies is easier to bear than returning to a physical classroom. Caesar Rodney High School Bayhealth Wellness Center Mental Health Counselor Christina Eilers, LCSW, offers five tips to help families adjust to a different educational experience:
Be prepared. Changes are inevitable, but be aware that even professionals, like Eilers and her colleagues are prepared to help with transitions and navigate whatever unknowns may arise. During the summer they are training to help make the transitions as seamless as possible. Although a lot of adults are excited about having their kids return to school, "it's not a complete normal, and we don't know what that looks like."
Help kids navigate fear. Like adults, each student may have his or her own way to express that. Some will pretend that everything is OK, while others may act out or become withdrawn. It's important to take a child's concerns seriously. Rather than dismiss fears, help him or her talk about them. Be patient because children may not have the vocabulary to express what they are feeling.
Be a role model. Adults should try not to transmit fears or frustrations to their children. "Parents should try to model that it is OK to be flexible and prepared for change." In addition, parents may want to help a child recognize whether the fear is realistic. Parents may need to patiently present evidence to disprove the concerns.
Pay attention. Anticipate some behavioral changes at the beginning of the school year, but if those changes, like crying, persist it might be time to seek professional help. "Changes are significant when they impact a student's ability to function," said Eilers. "Older kids might withdraw from activities or friends."
Be sensitive to what others are facing. It might be more than school-related stress. The COVID-19 pandemic impacted kids differently – different from adults and different from one another. Their lives may have changed significantly. Some families experienced financial challenges, lost their homes or even loved ones, while other families suddenly had both parents working from home. Students who were involved in extra-curricular activities were suddenly isolated. "For each individual, how the family handled these situations was different," Eilers said. "Some kids were OK; some were not."
In addition to Bayhealth Wellness Centers, all public high schools in Delaware have a Wellness Center; enrollment for services is open to all students in that particular school. Enrollment paperwork is available on school websites and in the school offices. Once school begins in the fall students and parents can contact the Wellness Center, school administrators, and school counselors to determine available counseling resources and have information for both in-school and community services to assist families.
For help during a mental health crisis, Text DE to 741741 to reach a crisis counselor 24/7 or call 1-800-969-HELP (4357) to reach Delaware Mobile Crisis.
Share This With Your Friends