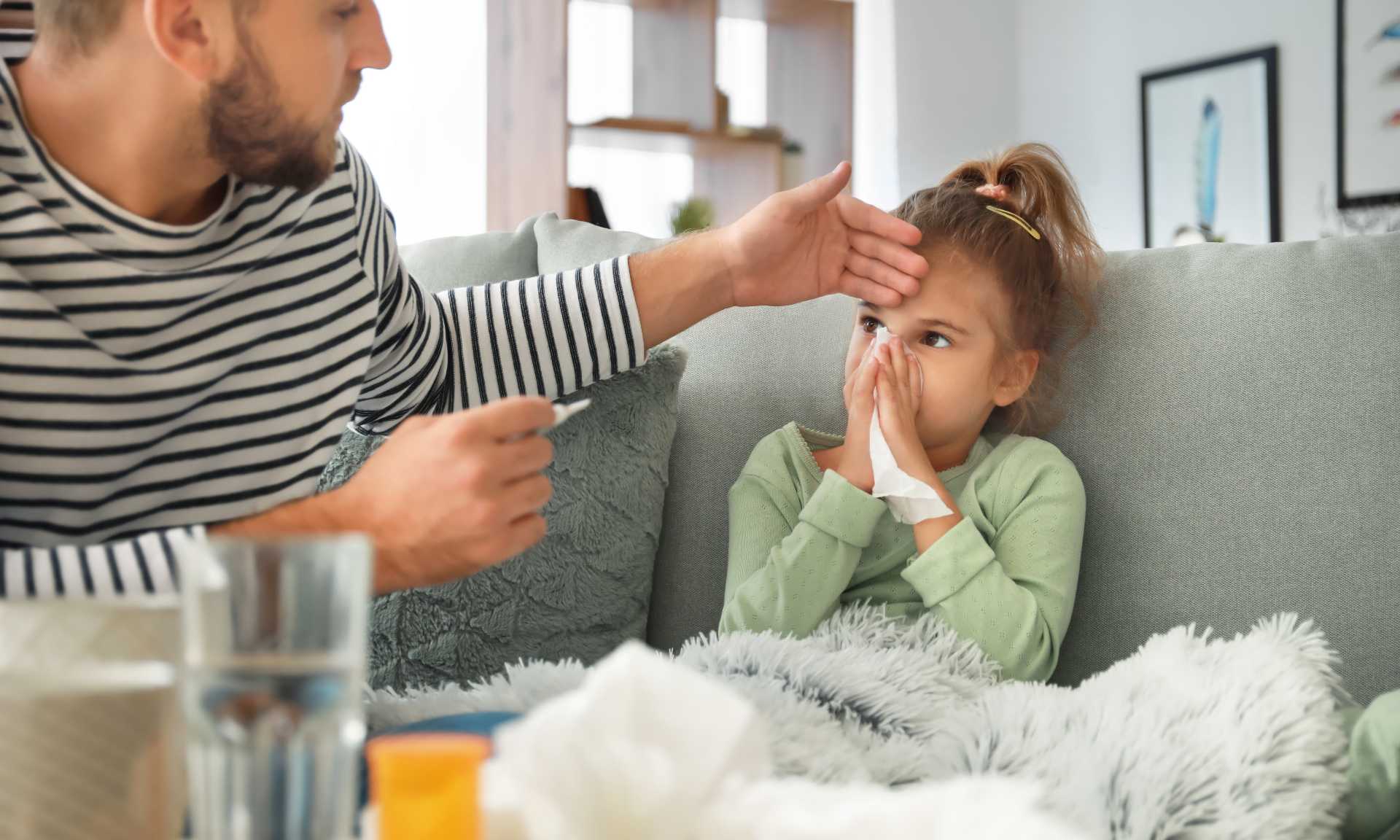 Sniffles and Sore Throats in Kids: When to Call the Doctor
With school activities in full swing and the winter season fast approaching, sniffles and sore throats have returned. Mask wearing and social distancing do limit the spread of illness, but it's still hard for little ones to avoid all germs in school and day care settings. And for those going for the first time, their immunity hasn't yet been built up so frequent sickness in kids is expected, said
Bayhealth Pediatrician Taqdees Afreen, MD
.
It's normal for kids to get about six to eight colds per year, which means they could be sick more than every other month during the school year, Dr. Afreen explained. While most are caused by viruses and go away on their own, here are the most common childhood illnesses and signals for when a doctor visit is in order.
Upper respiratory infections
This is basically the common cold and it's seen often in babies in day care and children in school. Usual symptoms are runny nose, congestion and cough, sometimes with a fever. Most are caused by viruses in the upper respiratory tract that the body fights naturally. But when a cold appears to turn into something worse, it may need treatment.
One example is bronchitis, called bronchiolitis in infants and toddlers, where the infection moves into the lower respiratory tract. "This can bring on even more congestion and wheezing," said Dr. Afreen. "It's mostly viral, but requires more management of the illness, especially in babies or those with asthma who may require a nebulizer, so a doctor visit is recommended." Childhood colds can also develop into ear infections or sinusitis—an infection of the lining of the sinuses around the nose. Signs tend to vary by age but tugging on the ear, difficulty sleeping and irritability are indicators of an ear infection in young children.
Sore throats
Sore throats are a common complaint in school-age children. Most sore throats, especially mild ones, get better on their own. When a painful throat comes with a fever, red tonsils with white spots and swollen neck glands, as opposed to cold or allergy related symptoms, it may be strep throat. A medical provider can tell you if it is and will treat with antibiotics.
Urinary tract infections
Urinary tract infections (UTIs) are seen frequently in young children going to day care or preschool. Reminding children of healthy bathroom habits and wiping, ensuring they stay hydrated, and avoiding bubbles baths or other irritants can help. If a UTI is suspected, visit a medical provider so this can be checked with a urine test.

Contact your child's medical provider if you notice any of these signs in your child:
High fever –particularly above 101 degrees
Difficulty breathing
Not eating or drinking
Cough or congestion and thick yellow or green mucus that goes on for more than a week or is worsening, or wheezing not linked to asthma
Ear pain
Burning or pain when peeing, increased urge to urinate, or less urination than usual
"The symptoms of many of these common childhood illnesses overlap with signs of COVID-19, so we can't take them as lightly anymore," said Dr. Afreen. "Parents should call the doctor's office about any next steps, including COVID testing, before sending kids back to school or day care to make sure they are well and not passing sickness on to others."

Dr. Afreen sees children from infant to age 18 at Bayhealth Pediatrics, Milford and is accepting new patients. Please visit Bayhealth.org/Pediatrics for more information or call 302-725-3550 to make an appointment.
Share This With Your Friends