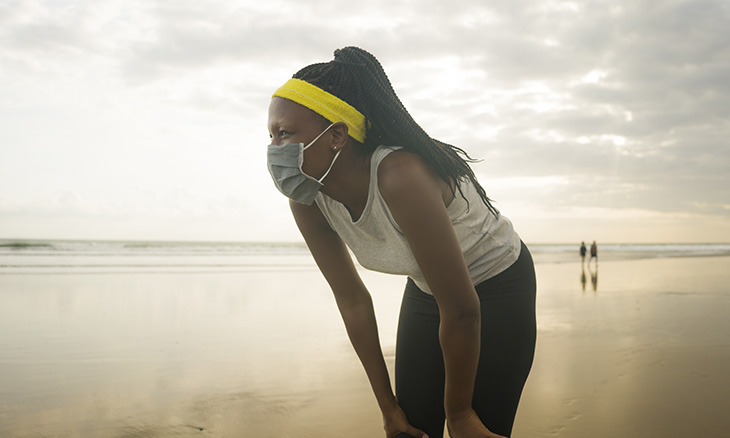 COVID-19, Heart & Vascular
COVID-19 Creates Risks in Heart Healthy Patients
While studies on the longer-term effects of COVID-19 on the body are still limited, emerging evidence reveals it can affect vital organs like the heart in many ways. It's been well documented that individuals with heart conditions are more at risk of severe illness from the virus. Alarmingly, recent studies are showing heart damage following a COVID-19 infection in individuals without any pre-existing heart problems. Bayhealth Cardiologist
Sanjeev Patel, MD
, explains the latest developments in how COVID-19 can affect the heart.
"While the effects vary among patients, the virus has been shown to cause heart complications and long-term structural heart damage in individuals without any history of cardiac issues. When the heart is involved in a COVID-19 infection, it significantly increases the chance of a fatal outcome," said Dr. Patel.
A number of very serious heart implications are now associated with COVID-19. Dr. Patel said these include myocarditis, or inflammation of the heart; ventricular arrhythmias, or abnormal heartbeats; acute coronary syndrome, which is defined by a reduction of blood flow to the heart; or coronary thrombosis, the formation of clots in the arteries of the heart. "These issues have been identified in a range of people infected with COVID-19—not just older hospitalized patients, but younger individuals, and those who are asymptomatic."
At the onset of a COVID-19 illness, the lungs are typically impacted first. Dr. Patel explained that it's the body's intense immune response to the virus that may then cause an inflammatory response, leading to damage to the heart and other organs. "In some cases we see what's called a cytokine storm, which accelerates a decline in heart function," said Dr. Patel. "At worst, it can trigger a myocardial infarction, or heart attack."
Dr. Patel said there are still gaps in the medical community's full understanding of the duration of cardiac injury resulting from COVID-19 because long-term medical studies usually require many years of research. Recent evidence does suggest, however, that even very healthy individuals, such as trained athletes, who've had it are at risk of future heart related consequences.
"Studies have shown enlarged or weakened heart muscles in young athletes who had COVID-19 previously but no symptoms or signs of a heart problem. There have even been cases of sudden cardiac death in these types of healthy individuals," Dr. Patel said. He added that research shows increasing evidence of heart muscle inflammation in healthy, asymptomatic individuals several months following a COVID-19 infection. The degree of the long-term effects is still unclear, but some experts believe that the result over the next several years may likely be a significant increase in heart failure patients among those who've previously had coronavirus. "It's a distressing realization and presents many challenges for diagnosis, as structural heart damage may not always be picked up on baseline cardiac testing such as an electrocardiogram or an echocardiogram."
Dr. Patel emphasized that with continued research, there should be more clarity to guide future diagnostic testing, treatment and follow-up care. Only time will tell, but past COVID-19 infection may be yet another known risk factor that primary care doctors and cardiologists will have to keep an eye on or manage in their patients. "In the meantime, it's critical for everyone to follow guidelines—wear your mask, wash hands, and practice social distancing. We look forward to everyone being vaccinated for COVID-19 but for right now, prevention is our best defense."
If you're looking for a cardiologist visit
Bayhealth.org/Find-a-Doctor
or call 1-866-BAY-DOCS (229-3627) to be matched with a physician to fit your needs.
Share This With Your Friends