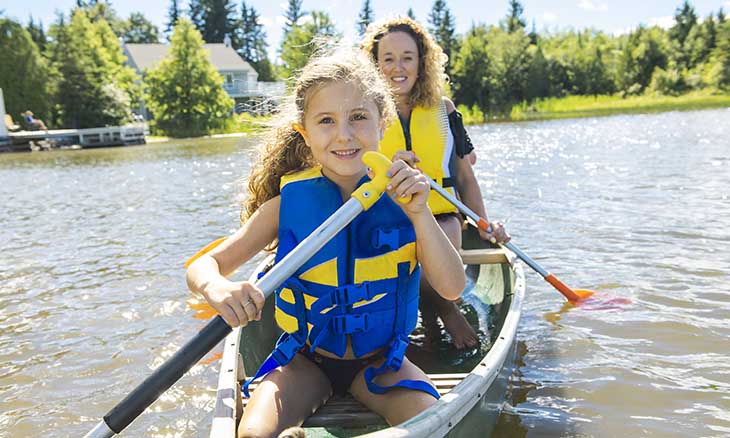 A Pediatrician's Tips for Safe Splashing this Summer
Outdoor temperatures are rising, which means a popular time for family fun in the water. While swimming pools, beaches and boating are fun to enjoy in the summer, following proper water safety guidelines is essential. Bayhealth Pediatrician
Adaobi Enekwizu, MD
, recommends a multi-prong approach involving education and preventative steps to keep your family safe in the water.
Drowning is one of the top ten leading causes of death among all young people, as reported by the
World Health Organization (WHO)
. It is the leading source of accidental death for children ages one to four. This past year has seen a huge spike in pool purchases, providing even more reason for homeowners as well as parents and caregivers to be reminded of water safety guidelines.
First, families need to be aware of and teach their children the risks that exist in and around natural and man-made bodies of water, said Dr. Enekwizu. Even small amounts of water—two inches or less—pose a hazard for young children. This includes bathtubs, sinks, toilets, inflatable pools, or buckets.
Among children ages one to four, most drownings occur in residential swimming pools. A drowning can occur in under one minute. There is an increased drowning risk for children with epilepsy, autism spectrum disorder and certain heart conditions. Dr. Enekwizu said these children should have a water safety plan from their doctor. According to the
CDC
, for every child who fatally drowns, another eight receive emergency care and may sustain long-term injuries such as brain damage or disability.
The second highest age group for drowning risk is preteens and teenagers. These accidents often occur in natural bodies of water, such as ponds, lakes, and oceans. Those in this category, particularly young males, tend to take more risks and overestimate their swimming ability in the water. They should also take precautions to determine water depth before diving into any water, as diving-related injuries are most common among 10 to 14-year-olds.
Dr. Enekwizu explains the water safety guidelines that the CDC and
American Association of Pediatrics (AAP)
have endorsed for prevention of drowning. In-ground pools should have fencing, at least four feet high, around all four sides with a self-closing and self-latching gate that opens out from the pool. This alone reduces drowning risk by more than 80 percent. Rescue equipment should always be close on hand. Another helpful measure for pool owners or parents is to be trained in CPR.
Swim lessons are recommended as early as age one, depending on the child's developmental abilities. "This certainly helps with water competency, but close supervision is still key," Dr. Enekwizu said. "Children should always be supervised in the bath or near water. Particularly at the beach or at pools, designate a 'water watcher' - a responsible adult that is within touch of children and not distracted by a device, socializing, or drinking alcohol."
For boating and open water activities, the use of U.S. Coast Guard-approved life jackets is recommended for all ages. "Be sure to check the label for approval and follow specifications for sizing based on weight," she added. "This ensures it is the appropriate fit to keep your family member safe in the water."
If you're interested in CPR and first aid classes, go to
Bayhealth.org/Classes-and-Events
. Dr. Enekwizu is currently accepting new patients at Bayhealth Pediatrics, Milford. Visit
Bayhealth.org/Pediatrics
to learn more or call 302-725-3550 to make an appointment.
Share This With Your Friends