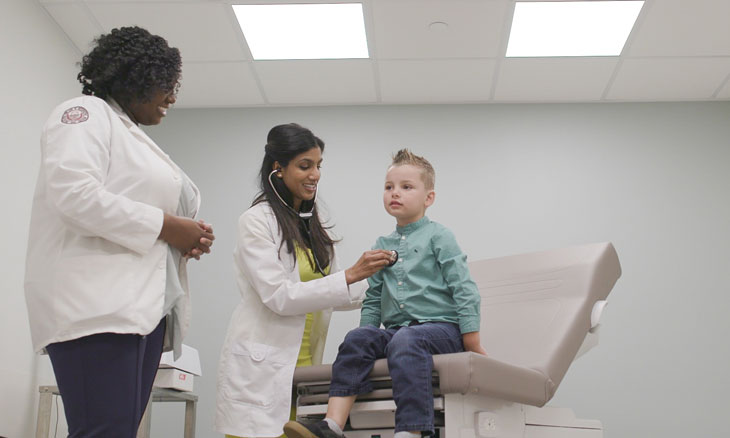 Prepping for Your Child's Next Check-Up
Have you gotten off track with health appointments this past year? Is your child overdue for a check-up? If so, now is the time to reconnect with your primary care doctor. Bayhealth Family Medicine Physician Brintha Vasagar, MD, emphasizes how important routine medical care is for children, particularly due to the fact they grow and change so much in a short time span. She offers tips for how parents can make the most of their next appointment and be prepared with questions to ask.

Since some children, especially little ones, may be fearful of doctor's visits, give them plenty of notice about an upcoming appointment and be positive about it, said Dr. Vasagar. Explain what a well-child visit will entail so they have a full understanding. Reassure them that it's natural for all kids and adults to go to the doctor regularly and that a doctor's job is to help everyone stay healthy and strong.

Dr. Vasagar explained that it's very useful to prepare in advance a list of questions you want to ask your child's doctor. This will allow you to get the most out of the visit and not leave wondering about something you forgot to bring up. If your child is older, you might engage their input in preparing this list, or they can write their own list of questions they have. These would vary based on the child's age, but some suggested topics are:
Growth and development – Is my child meeting milestones and developing appropriately?
Behaviors – Picky eater? Sleep problems? Get guidance on how to navigate behavior challenges, habits or new stages.
Immunizations – Is my child up to date? What vaccines are newly available or may be coming up, such as the COVID vaccine?
Mental and emotional health – Be sure to mention any concerning signs or struggles your child has had coping with change related to the pandemic or in general.
Medical concerns – Are there any new symptoms you've noticed, or your child has complained about? Even if it's a mild concern, bring it up so it can be checked or addressed to avoid a problem getting worse.
Dr. Vasagar sees patients at the Bayhealth Family Medicine, Dover practice which provides a full range of primary care services as well as OB-GYN care. She is accepting new patients of all ages. To make an appointment, call 302-725-3200.
Share This With Your Friends