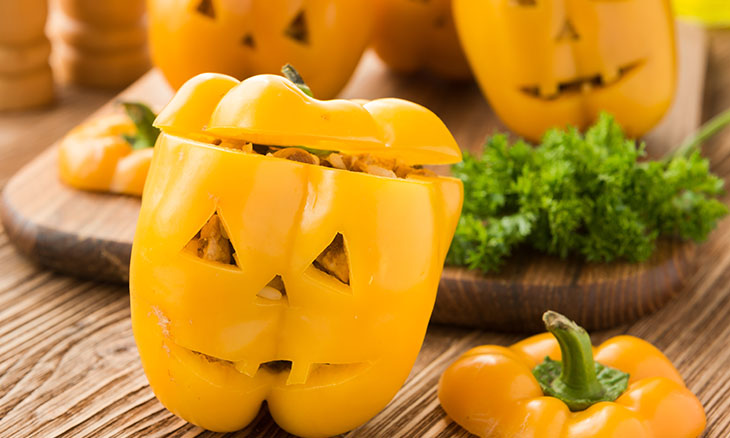 Nutrition, Children's Health
Spooktacularly Healthy Halloween Treats the Entire Family will Devour
It's easy to tell when Halloween is approaching by simply walking into stores and seeing shelves overflowing with candy. While it's very tempting to reach for an assorted bag of Halloween treats, it's no secret that Halloween candy isn't nutritious. Instead of bringing home the temptation of chocolates and gummies this Halloween, try making these ghoulish treats the whole family will enjoy.

We're sharing seven recipes to try with your family. Tag @Bayhealth to share pictures of your dishes on social media. We can't wait to see your creations.
This smoothie bowl is a spooktacular way to start your day off right! Not only is it nutrient dense, but it is quick, easy, and totally customizable. You can even let the kids help decorate the top with their favorite Halloween scene. (Recipe by: Fresh Coast Eats)
This Frankenstein avocado toast is sure to be a crowd pleaser. You can easily customize this recipe to your family's preferences, and it's easy enough to have the kids help prepare it. (Recipe by: Fork and Beans)
If your family follows a Vegan diet, or you simply like to limit your meat intake, this recipe is not only delicious, but also scary cute. (Recipe by: Spabettie)
Nothing says Halloween like creepy meatballs. Don't let these meatballs fool you though, they aren't actually made of meat! (Recipe by: Healthy with Nedi)
When you have a sweet tooth, this spooky take on peanut butter cups is sure to hit the spot! With only three ingredients you can make these in no time. (Recipe by: elephantastic vegan)
If you're hosting a Halloween party, this quick and easy Jack-O-Lantern party tray will be the perfect statement piece on the table, and you won't have to worry about unnecessary sugar. You can easily make this into a veggie tray by simply swapping your fruits for veggies of the same color for the same Jack-O-Lantern affect. (Recipe by: Keeping the PEAS)
It wouldn't be Halloween without at least one pumpkin flavored treat, and this pumpkin fudge doesn't disappoint. This is a perfect sweet treat for adults, but don't be surprised if the kids want to try this tasty treat too! (Recipe by: Feasting on Fruit)

We know eating healthy during the holidays can be tricky. But now is the time to get your family excited about creating healthy treats and meals together. Better yet, you can make it a tradition and get the added benefit of spending quality time together.

Visit bayhealth.org/community-health-and-wellness for more health-related tips. And don't forget to tag @Bayhealth when you share your dishes on social media.
Share This With Your Friends