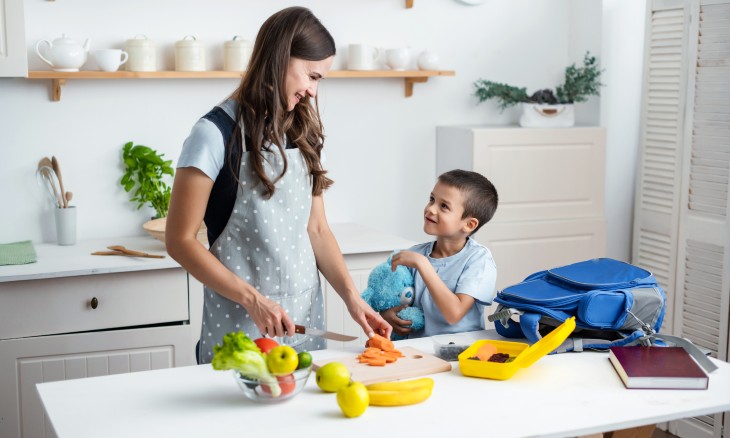 Children's Health, Nutrition
Packing Healthy Lunches for School
School is right around the corner and as busy parents, we know that planning and preparing to pack a healthy lunch for your child can be time consuming. A healthy lunch will provide your child with the fuel that their brain needs to work efficiently and learn throughout the day. Research shows that students score better on tests when they have nutritious food in their bellies.
Amy Burnett, NP-C, who works at the Bayhealth Wellness Center at Smyrna High School, shares some tips for parents and students who plan to pack their lunch rather than eating the school-provided meals.
Meal prepping may seem time consuming but, in the end, will be more efficient for busy parents. Create a space in your kitchen for a lunch packing station. Pre-make grab-and-go portions in advance. In the fridge, consider having a selection of pre-cut carrot sticks, cucumbers, celery, oranges, melon, grapes, berries, snap peas, pepper strips, cherry tomatoes, cheese sticks and yogurt in stock.


Give your child healthy food options and include them in your shopping. Some ideas for healthy treats include dark chocolate covered raisins, air popped popcorn, homemade granola bars, sweet potato or kale chips.


Bento boxes will allow you to portion veggies, fruits, dairy, and grains appropriately. They provide a variety of smaller portions which gives your child more options at lunch. This ultimately takes the pressure off your kids having to eat the entire main component of their lunch (like their whole sandwich), and often results in them trying new things.


Provide a rainbow of foods. It's important to limit foods that are processed or have artificial flavoring, preservatives, high fructose corn syrup or dyes. Packing fruits and vegetables in bright, rainbow colors in your child's lunch not only expands the number of vitamins and antioxidants in their diet, but is more visually appealing – ultimately tempting them to try new foods, and complete their food rainbow.


Make some healthy swaps: White bread for wheat or organic options. Avoid deli meats with nitrates. Provide plain milk, water or low-calorie Gatorade instead of juice boxes, which contain a large amount of sugar.


Provide a balance of protein, fruits, vegetables and dairy for them to choose from. Think outside the box and expose your children at a young age to foods such as hummus, avocados, cottage cheese, nuts and seeds (if not allergic) and hard-boiled eggs.


Leftovers can be a great addition to a lunch box. If there is a food that needs to be kept warm, purchase a thermos that will keep their food hot until lunch. You can pack healthy meals that your child loves such as soups or a leftover meal from the night before.
Educating children when they are young about the relationship between healthy food choices and physical activity is imperative for them to grow into healthy adults. Eating healthy will boost their immune systems, strengthen their bones and will lower the risk of developing heart disease, Type 2 diabetes and some cancers. Obesity among children is a serious concern, with more children developing Type 2 diabetes. As parents, we need to be proactive in helping our children to make choices to reverse this trend.
Visit Bayhealth.org/Community-Health-And-Wellness for more stories like this.
Share This With Your Friends