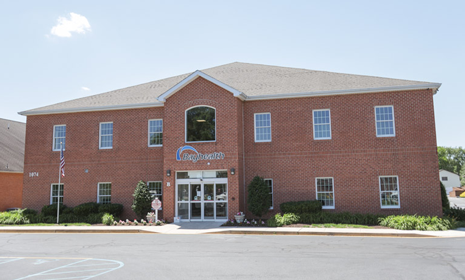 Share This With Your Friends
Bayhealth Family Medicine, Dover
Address
1074 S. State St.
Dover, DE 19901
Get Directions
Hours:
Open today from 8:00 a.m. to 4:30 p.m.
Share This With Your Friends
Overview
Focused on your family's needs
Bayhealth Family Medicine, Dover is uniquely designed to care for your whole family. Beyond the typical primary care services we offer, our compassionate and thorough care helps meet the physical and emotional needs of each individual family member.
Our practice is part of Bayhealth's residency program, training doctors to become specialists in family medicine. Our residents see patients during office visits and are supervised by our highly-trained family medicine physicians. Our expertise and dedication come together to give you a personalized and exceptional patient experience.
We provide obstetrics and gynecology, prenatal care, and low-risk deliveries so women and expecting moms can get the care they need—all in one place. Our team also includes a licensed professional counselor to support and guide our patients. We're here to meet you where you are on your wellness journey.
At Bayhealth Family Medicine, Dover we take care of women through all stages of life and motherhood. With complete gynecological care as well as obstetrics we give moms-to-be the services and support they need during pregnancy, delivery and beyond:
Routine exams and pap tests
Family planning
Contraception
Prenatal and maternity care
Low-risk deliveries
Treatment of menopause related symptoms
We offer comprehensive medical care to children of all ages—from newborns to teenagers. This includes:
Routine check-ups and health maintenance visits
Urgent sick visits, with same-day appointments
Treatment of chronic conditions
Immunizations
Physicals and sports medicine
We care for adults throughout their lifetime. We take pride in being a partner in your long-term wellbeing. Through preventative and routine care, we'll help you stay on top of your health and work with you to manage your medical conditions or illnesses that arise. The services we offer include:
Treatment of chronic conditions
Treatment of acute illness, with same-day appointments.
EKGs
Preventative services, screenings and vaccinations
Preoperative examinations and clearance
Geriatric medicine
We strive to ensure that patients of all ages and healthy, both physically and emotionally. Here are just some of the ways we can provide holistic care tailored to you and your family's needs:
Counseling and therapy for individuals or families
Services for mental health or behavioral conditions
Addiction and substance abuse treatment and counseling
Coordination of support services or other emotional health resources
Insurances
It's important that you focus on your health rather than navigating the world of insurance. We accept most major health plans, as well as Medicare and Medicaid. See the complete list of accepted plans.

At your visit, applicable copayments and fees for services not covered by insurance will be collected. Please call our office at 302-725-3200, if you have any questions.
Hours:
Monday
8:00 a.m. to 4:30 p.m.
Tuesday
8:00 a.m. to 4:30 p.m.
Wednesday
8:00 a.m. to 4:30 p.m.
Thursday
8:00 a.m. to 4:30 p.m.
Friday
8:00 a.m. to 4:30 p.m.
Services at this Location