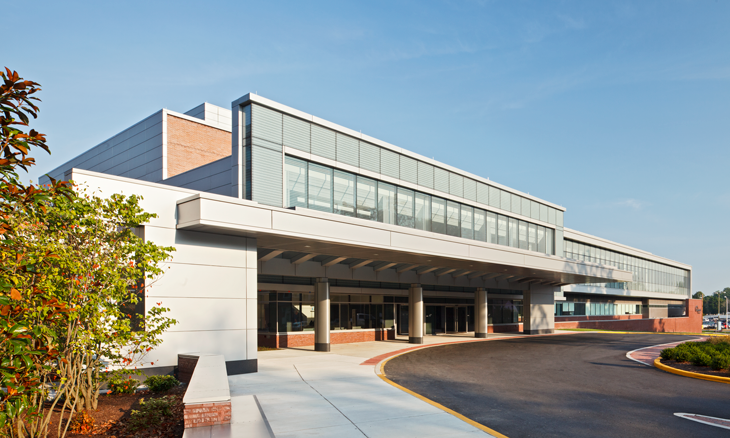 Share This With Your Friends
Bayhealth Maternal-Fetal Medicine, Kent Campus
Share This With Your Friends
Overview
Guiding you through the pregnancy journey
Our Maternal-Fetal Medicine physicians or perinatologists are experts in high-risk pregnancies and specialize in treating moms-to-be from pre-conception through the birthing process. Our staff works with your obstetrician to develop a plan of care that addresses your individual needs and particular medical history.

We offer pre-conception counseling and counseling during pregnancy for specific maternal-fetal medicine concerns. Some of the indications that your physician may refer you to us, include maternal disease such as diabetes or hypertension, a history of pregnancy loss or pre-term delivery, advanced maternal ages, a multiple pregnancy, known or suspected birth defects, follow-up of screening results, or fetal growth issues.
Bayhealth Maternal-Fetal Medicine offers the following services:
Pre-conception counseling
Diagnostic testing
Genetic Counseling
Targeted ultrasounds
First trimester screening
Basic ultrasounds
Antenatal testing
High-risk pregnancy consultations
Prenatal diagnosis
Ultrasonography

First trimester
Cervical assessment
Targeted
Procedural

Antepartum fetal surveillance
Consultation with a perinatologist
Consultation with specialists
To schedule an appointment, call 302-744-6220.
First Appointment
When your obstetrician refers you to Bayhealth Maternal-Fetal Medicine, please schedule your appointment at least 48 hours in advance of your next prenatal visit with your obstetrician. Below is a list of helpful tips.
When should I arrive?
When preparing for your visit, we ask that you arrive at least 15 minutes prior to your scheduled appointment. This will allow ample time for you to complete any necessary forms and update insurance information as needed. Please allow at least 2 hours for your appointment.

If you are not able to make your appointment, please notify us at least 24 hours in advance. We may be reached at 302-744-6220.
What should I bring?
Bring two forms of ID to your visit. This can be a driver's license, social security card, or other government issued ID.
What forms do I need to complete?
Prior to arriving to your appointment, please complete the following forms and give them to our front office staff when you arrive. Your obstetrician will give you these forms.
Outpatient Medication Reconciliation
Consent for Treatment
Patient Demographics
What insurance information do I need to have?
Please bring your insurance card at the time of your appointment. We participate in many insurance plans and will file medical claims on your behalf. We will ask you for your insurance information at the time you make an appointment. This allows us to verify your coverage and benefits, obtain required authorizations, and inform you of any non-covered services and fees. We recommend that you familiarize yourself with your plan and plan requirements before your first visit.

We collect co-payments or fees for non-covered services at the end of your visit. A payment plan may be arranged.
May I bring a child to my appointment?
We understand that your child may want to join you during this exciting time. Children are welcome at your appointment. For liability reasons, a second adult must supervise the child at all times. Our staff cannot be responsible for your little one.

In order to provide you highest level of service, and ensure safety and proper equipment operation, we do not allow children in the ultrasound rooms. If you will be having an ultrasound during your appointment, a second adult must supervise your child during this part of your visit.

Our policy is based on safety. Children are naturally energetic and curious. With all of the buttons, knobs and gadgets an ultrasound machine has, it is an attractive "toy" for children who would otherwise view mommy's doctor appointment as a boring event. Ultrasound equipment is heavy, but portable, and could roll over small fingers and toes.

Thank you for understanding. If you have any questions, please call our office at 302-744-6220.
First-Trimester Appointment
Before arriving for your first-trimester appointment, please read the following tips for a successful appointment. It's important to note that your first appointment is not meant to reveal the sex of your baby; rather it's a time for you and your care team to have important conversations about your health and the health of your baby. Please keep the number of guests you bring with you to a minimum.
Tips for a successful appointment:
Drink 24 ounces of water 30 minutes prior to your ultrasound appointment time. If you are coming for genetic counseling prior to the ultrasound, please bring your water with you.

When preparing for your visit, we ask that you arrive at least 15 minutes prior to your scheduled appointment. This will allow ample time for you to complete any necessary forms and update insurance information as needed.

Your First-Trimester Ultra-Screen Instant Risk Assessment packet from your OB/GYN must be completed with blood sample sent out at least 10 days prior to your scheduled appointment at Bayhealth Maternal-Fetal Medicine. This allows us to give you your results the same day as your appointment. If the blood sample (finger prick) is taken the day of your appointment, we will call you with your results within 2-4 days.
First-trimester ultra-screen
The First-Trimester Ultra-Screen Instant Risk Assessment screening consists of a combination of blood work and an ultrasound measurement of the baby. The Instant Risk Assessment program allows for the earliest possible risk assessment for Down Syndrome and Trisomies 18/13.
Tips for successfully using the kit:
Read the information enclosed in the kit.
Complete the patient information section in the red box on the blood sample card that is included in the kit. Please make sure to include the date you collect the blood sample and your weight as these factors influence your test result. You should obtain your blood sample between 9 weeks and 1 day and 13 weeks and 1 day. Your doctor or nurse can help calculate this. If possible, include a copy of your insurance card with your blood sample. Not all insurance companies cover the laboratory charge. Most insurance companies pay for the ultrasound. Contact your obstetrician's office for any referrals of authorizations your insurance plan may require for these.
Please follow the instructions in the kit for obtaining your blood sample. Mail your sample in the postage-paid envelope enclosed in the kit.
Call Bayhealth Maternal-Fetal Medicine to schedule an appointment for your ultrasound. A genetic counseling appointment may also be scheduled at this time if you have certain risk factors.
Following your ultrasound, the perinatologist will interpret your scan. The genetic counselor, physician, or sonographer will access your blood test results from the lab and a calculation of your risk will be instantly performed. In order to perform this instant assessment, you must mail your blood sample at least 10 days prior to your ultrasound. Depending upon your specific risk assessment, other recommendations for follow-up will be made.
Prenatal Genetics
Prenatal genetics is an area of specialization that focuses on helping pregnant women, women planning a pregnancy, and families learn and make decisions about genetic issues that may impact a pregnancy.
How can a prenatal genetic counselor help?
Prenatal genetic counselors use their specialized education in prenatal genetics and counseling to help physicians and patients translate complex genetic science into practical, decision-making information to ensure the best patient outcomes and highest patient satisfaction.

A prenatal genetic counselor may:
Help you understand potential risks, enabling you to make informed decisions for a current or future pregnancy in a supportive and non-directive environment.
Provide information about the chromosome abnormality, birth defect or genetic condition or concern.
Assist you in understanding complex information about screening and testing options. Answer your questions about what testing options you may wish or not wish to choose.
Arrange and coordinate specialized genetic testing.
Explain test results, discuss management options and support you during the decision-making process in the event of a diagnosis of birth defect or genetic condition.
Provide emotional support for you, facilitate referral to other specialists, and connect you to other resources as needed.
MEDICATION RECONCILIATION FORM
Insurances
Bayhealth Maternal Fetal Medicine wants you to focus on your health instead of navigating the world of insurance. As part of Bayhealth Medical Group, we accept most major health plans, as well as Medicare and Medicaid. See the complete list of accepted plans.
At your visit, applicable copayments and fees for services not covered by insurance will be collected. Please call our office at 302-744-6220, if you have any questions.
Hours:
Monday
8:00 a.m. to 4:30 p.m.
Tuesday
8:00 a.m. to 4:30 p.m.
Wednesday
8:00 a.m. to 4:30 p.m.
Thursday
8:00 a.m. to 7:00 p.m.
Friday
8:00 a.m. to 4:30 p.m.
Share This With Your Friends