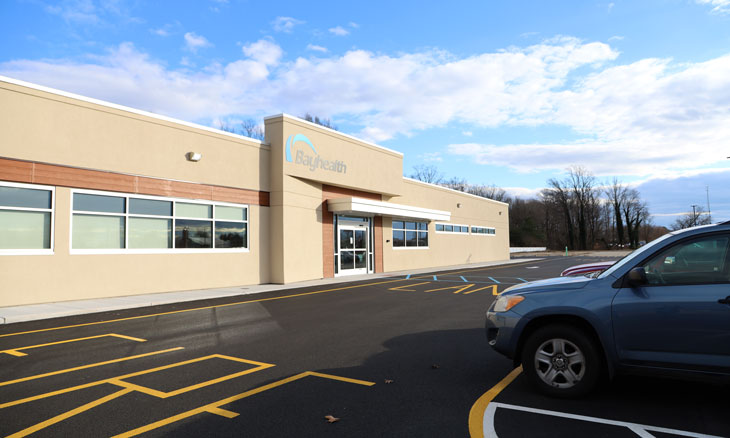 Share This With Your Friends
Bayhealth Primary Care, Harrington
Address
16681 S Dupont Hwy
Harrington, DE 19952
Get Directions
Hours:
Monday - Friday: 8 a.m. - 5 p.m.
Share This With Your Friends
Overview
Committed to quality care
Our practice offers a primary care physician and internal medicine specialist who provide high-quality, comprehensive health care services for ages 15 and older. Our physicians understand you have unique health needs. Both of our physicians are board-certified and trained to solve puzzling diagnostic issues, handle chronic illness, and deal with situations where several different illnesses may affect you at the same time. At Bayhealth Primary Care, Harrington, we consider it a privilege to make personal relationships with patients, which is the basis for an ongoing dialogue focused on embracing the principles of good health.
Bayhealth Primary Care, Harrington provides the following services:
Primary care for ages 15 and older
Preventative care
Routine checkups
Adolescent medicine
Geriatric medicine
Adult care
Allergies
Asthma
Diabetes
Hypertension (high blood pressure)
Mental health
Smoking cessation
Sports injuries
Teen care
Vaccinations
Handle chronic illness
Solve diagnostic issues
To schedule an appointment, call 302-398-8704.
Insurances
Bayhealth Primary Care, Harrington wants you to focus on your health instead of navigating the world of insurance. As part of Bayhealth Medical Group, we accept most major health plans, as well as Medicare and Medicaid. See the complete list of accepted plans.

At your visit, applicable copayments and fees for services not covered by insurance will be collected. Please call our office at 302-398-8704, if you have any questions.
Hours:
Monday - Friday: 8 a.m. - 5 p.m.
Services at this Location
Share This With Your Friends