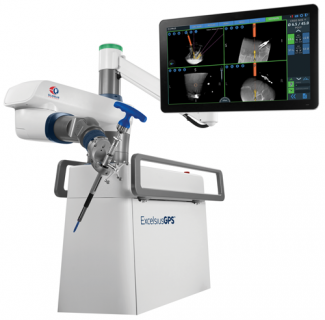 If you've been suffering from chronic back pain that is unresponsive to non-surgical treatment, you may be a candidate for minimally invasive spine surgery in conjunction with ExcelsiusGPS®. This revolutionary system, first offered by Bayhealth among all Delaware hospitals, uses robotic guidance and navigation, much like a GPS in your car, for enhanced accuracy and surgical care.

Produced by Globus Medical, ExcelsiusGPS® is the world's first technology to combine a rigid robotic arm and full navigation capabilities into one system for the most precise alignment in spine surgeries. On the day of surgery, medical images are taken and imported into the ExcelsiusGPS® system. The neurosurgeon uses these images to determine the size and placement of implants and creates a patient plan based on your anatomy. This is used to guide the robotic arm to a specific region of your spine, similar to a planned route on a GPS. The surgeon follows this route to precisely place the implants with the instrument.

Throughout the procedure, the surgeons and staff can view live feedback to closely monitor every move during your operation. The level of accuracy and sophistication that the ExcelsiusGPS® system provides gives patients the least risk and the best outcomes. Other potential benefits are smaller incisions, less scarring, a shorter hospital stay, and faster recovery.

Robotic spine surgery is offered at Bayhealth Hospital, Kent Campus by experienced neurosurgeons Dawn R. Tartaglione, DO, and Amit Goyal, MD. Speak to your doctor, or let us help you find a doctor or specialist, to see if robotic spine surgery may be the right option for you.