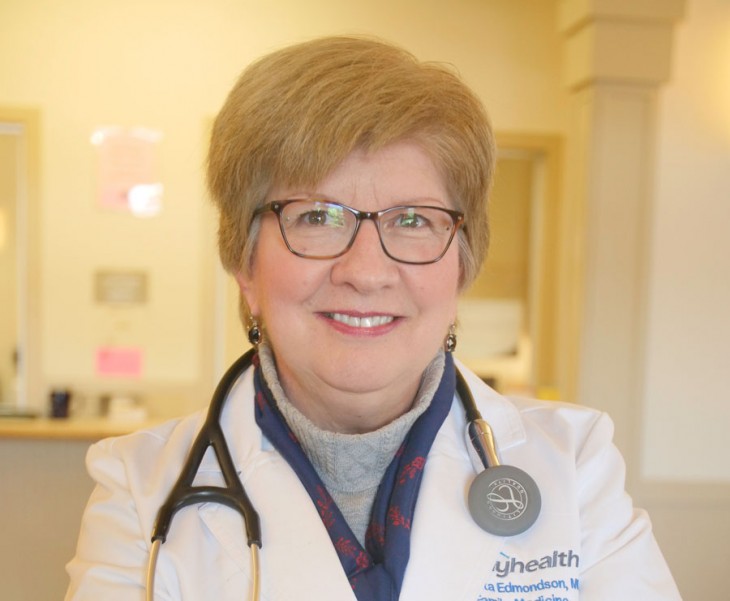 One Mom's Tips for Taking Care of Yourself
Loretta Edmondson, MD, a physician with Bayhealth Primary Care, Milford - Airport Road, is personally aware that mothers' lives are constantly busy, both at home and at work. Dr. Edmondson warns that putting oneself last is not without risks.

"When we've exhausted ourselves doing all that (family, pets, home, work), we run the risk of saying things we don't mean, withdrawing socially, and not making the best choices about what we eat or drink," she said.

Constantly living with stress and exhaustion is linked to serious – and potentially dangerous - health conditions. "Exercise goes out the window when we're stressed. In the long term, the risk of depression, heart disease, diabetes, and hypertension can rise when we don't take care of the caretaker," said Dr. Edmondson.

Dr. Edmondson admits that she too has walked the tightrope of parenting, juggling a career, family, home, and community commitments. "When our daughter was young, I remember the craziness of making meals, helping with homework, science fairs, dance, sports, church, birthday parties, and even weekend language classes. Multi-tasking became a fine art," she said.

As a partner in a medical practice, this doctor had to answer emergency calls at night and make rounds on the weekend. "I don't recommend doing all this," she said. "I can't say that I ever mastered the juggling act, but I got a little better at trying to figure out what the most important things were for us as a family, and putting our focus there."

"Living in the moment and letting go of that perfect image is hard, but so good. Taking time to be good to ourselves shows our kids that emotional and physical health is important. It doesn't take a lot of time or money to do for yourself what you would do for others," Dr. Edmondson said. She offers some suggestions to mothers on how to take – and make – time for themselves.
Get the sleep you've been missing.
Make a smoothie. Cook a healthy meal with fresh veggies and fruits that you want to eat. Add some protein to your diet and cut the carbs.
Drink your water.
Make your doctor, dentist and mammogram appointments, and keep them.
Reach out for help if you're physically or emotionally hurting.
Take that long shower or bath you've been craving.
Go for a walk. Work in the garden. Ride your bike or go out and run.
Think about a mini outing to a local natural attraction, such as the Milford Riverwalk, Goat Island, Slaughter Beach, or a nearby state park.
Read a book. Call a friend. Snuggle with your pet.
If you're a mom and need support from a Bayhealth doctor, visit Bayhealth's Find a Doctor page or call 1-866-BAY-DOCS to be matched with a doctor who fits your needs.
Share This With Your Friends