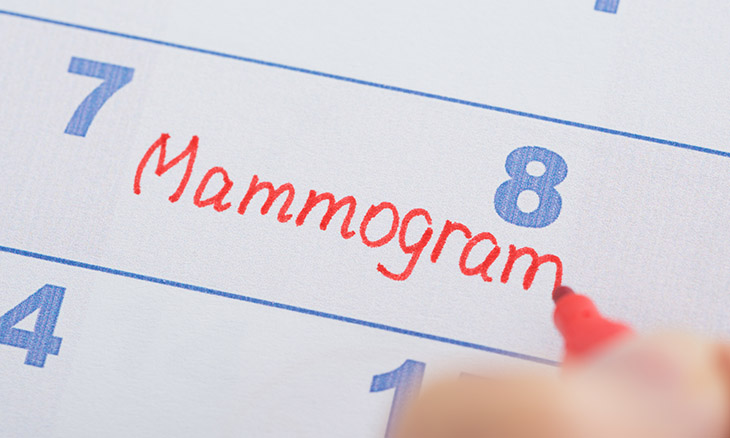 Women's Health, Cancer Care
A Health Reminder for Women: The Importance of Mammograms
Did you know 85 percent of patients diagnosed with breast cancer have no genetic predisposition or family history of it? That's why one of the most important steps women can take for their health is to get annual
screening mammograms
.
"Mammography is the only medical screening test proven to reduce breast cancer mortality," said Bayhealth Breast Care Coordinator Trisha Bentley, BSN, RN. "For patients with average risk of
breast cancer
, the ACR (American College of Radiology) recommends annual mammography screening beginning at age 40."
Bayhealth offers both traditional 2D mammography and 3D mammography for the detection of breast cancer. Bentley says 3D mammography, also known as breast tomosynthesis, can detect abnormalities of the breast earlier than traditional 2D and before any lumps can be felt. 3D mammography provides multiple high resolution images for the radiologist while still employing a low dose of radiation.
3D mammography is an ideal screening tool for all women. Patients with dense breast tissue have an added benefit because it produces millimeter slices all the way through the breast tissue, increasing the detection of smaller abnormalities. "An analogy I give patients when they ask what's the difference is that traditional 2D mammography is like looking at the crust of the bread while 3D is like looking at the individual slices," said Bentley.
"Most insurance companies now cover 3D mammography. No matter your coverage, we will discuss the pros and cons and help you decide what method is best for you," explained Bayhealth Women's Imaging Supervisor David Hill, RT(R), RDMS.
He added that Bayhealth now offers patients the ability to self-schedule routine annual mammography appointments through MyChart. "The MyChart scheduling option is only for asymptomatic routine mammography and not for diagnostic testing that may require more than a mammogram. Your provider must enter an order into the Epic health record system. After answering a few questions from the MyChart website, you are able to select the date, time and location that are most convenient for you," said Hill.
Visit
MyChart
to learn more about the patient portal and how to sign up. To schedule a mammography screening via phone at one of Bayhealth's ACR accredited locations in Dover, Middletown, Milford, and Smyrna, call 302-744-7400 (Kent) or 302-430-5707 (Sussex).
Each month, Bayhealth offers clinical breast exams and regular mammography screenings at no cost for women who are uninsured or underinsured. Although the screenings are free of charge, pre-registration is required. Call Harriet Pinkston at 302-744-6719 for more information.