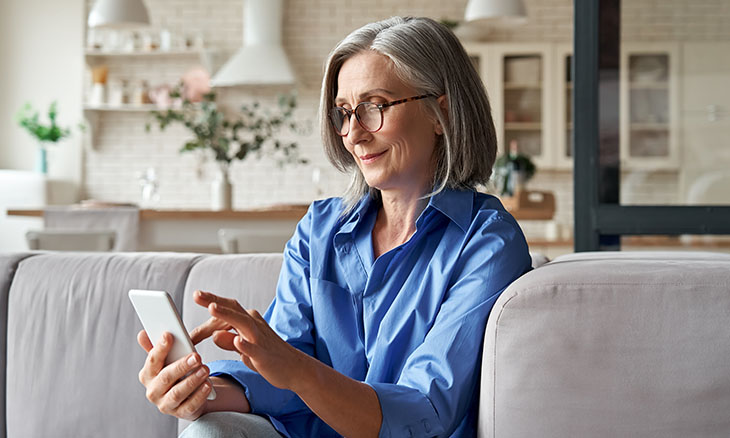 MyChart and Telehealth
Better health management is at your fingertips
Prioritizing and managing your health is an important part of life, and Bayhealth is making it even easier for community members to do just that. MyChart, an online health management tool, is designed to empower patients to take charge of their well-being. Accessing medical records and test results, communicating directly with providers, requesting prescription refills, and paying bills are some of the many features available to users within this secure and easy-to-use portal.
Now with Bayhealth's MyChart Telehealth program, patients can get the regular medical care they need with the ease and convenience of being at home or on a mobile device. Offered by Bayhealth Medical Group practices and some Bayhealth outpatient locations, the MyChart portal allows patients to make virtual visits for many routine and follow-up appointments in place of an in-person visit. Seeing doctors face-to-face via real-time video saves patients a trip and time waiting at the office.
Your doctor's office can help you start using MyChart Telehealth for a scheduled appointment coming up, or so you're prepared for when you do want to receive virtual care in the future.
In addition to this new Telehealth program, the following features were recently added to MyChart to help patients better manage their health.
Request in-person appointments
Patients can schedule their screening mammograms, some Bayhealth Medical Group visits and other types of appointments.
Echeck-in
Patients can check in electronically up to three days ahead of their scheduled appointment. They can also verify their insurance at this time, making the check-in process at the office more efficient.
Request a price estimate
Patients can contact the Bayhealth Price Estimates Team, which will work directly with them to determine what their insurance provider should cover and what their estimated out-of-pocket costs will be.
Apply for financial assistance
Patients may request assistance for any bills they are financially responsible for; however, they must meet the criteria, such as income requirements, and supply the required supporting documentation.
Register for my delivery
Expectant mothers can enter their due date and select the location where they plan to give birth, which makes their check-in process more efficient on the day the baby arrives.
Two-factor authentication
Patients have the option to turn on this added level of security for their account.
Visit Bayhealth.org/MyChart-Information to learn more or to sign up for MyChart.
Share This With Your Friends