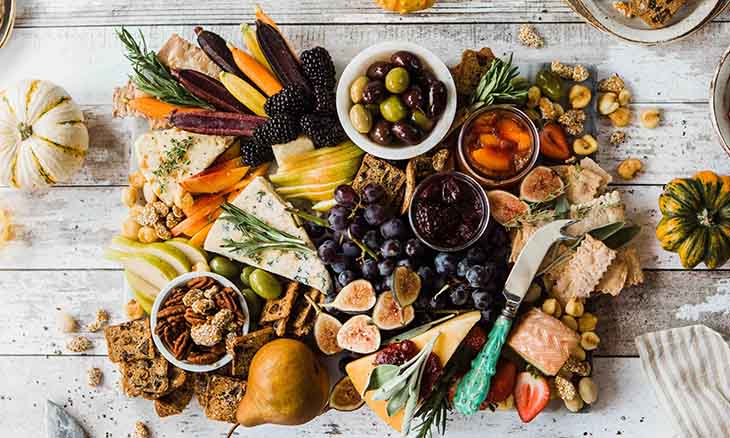 Nutrition, Diabetes Management
Navigating Holiday Temptations and Treats
'Tis the season for sweets and treats! From Halloween through New Year's Day and maybe until Valentine's Day, almost everyone is tempted by irresistible confections; the holiday season connects with special cookies, candies, desserts, and beverages. Tasty treats come with a price: weight gain that leads to serious health problems. That means losing weight – or even maintaining a healthy body weight – requires focus and a plan.

Bayhealth Primary Care, Milford's Assem Mamayeva, MD, encourages patients to avoid overindulgences by setting a goal. "Working with patients who have a current problem, I urge them to make specific goals, maybe five to 10 pounds lighter, after the holidays," she said.
Dr. Mamayeva reminds patients that being overweight, or obesity is linked to common – yet potentially dangerous – conditions, including hypertension, diabetes, and high cholesterol. "They are directly related."
Pick natural options. In order to avoid processed sugar and baked goods, she suggests people choose a healthy option. Fruit, for example, is better choice than fudge. "There are natural options." Those include dates, 70 percent cacao dark chocolate, and Greek yogurt with some cinnamon.
Make a plan. Planning ahead, she explained, also helps people deal with situations that may include unhealthy food choices. Dr. Mamayeva encourages patients to "exercise to burn off extra calories, to be disciplined. Each person is responsible for mindfulness, to program themselves to moderation."
Don't overeat. Dr. Mamayeva offers a concrete suggestion on how to manage portion controls when dining out. "Restrict the amount of food by ordering an appetizer. You will still get full." She also suggests asking questions about the food content, such as whether you are able to restrict salt to avoid hypertension.
Fewer calories -- more results. "Create a calorie deficit by excluding animal fats and carbohydrates." Planning ahead – particularly if the plan is to lose weight during the holidays – is important, and that includes setting a reasonable target goal, creating a schedule for exercise, and perhaps consulting with a nutritionist to develop healthy meal menus. "Sometimes one type of counseling or education is not enough. There is no magic pill or program."
If you're looking for a primary care doctor to help you stay healthy, visit
Bayhealth.org/Find-a-Doctor
or call 1-866-BAY-DOCS (229-3627) to be matched with a local provider.