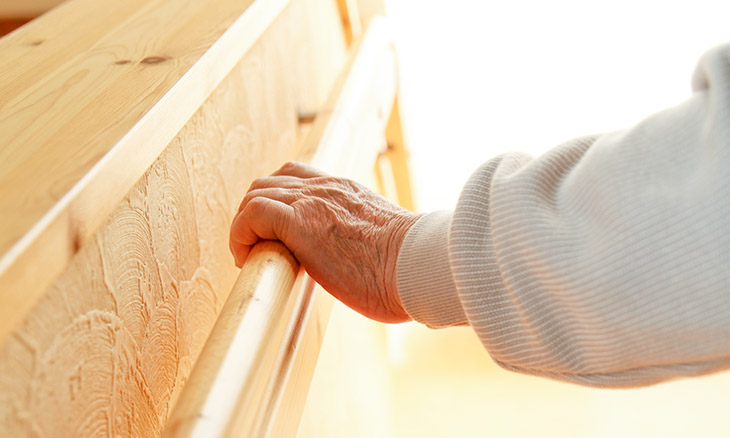 Healthy Aging, Emergency Care
Five Tips for Fall Prevention
It's no secret that senior citizens are at increased risk for falls, and not just when there's ice and snow on the ground. Nationally, for non-fatal emergency room visits, falls are the top cause for non-fatal emergency room visits responsible for 28 percent of injuries, said Bayhealth Hospital Kent Campus Trauma Registrar Diana L. Curtis, RN, MSN. Curtis logs medical information into the National Trauma Database. She serves as the co-chair of the state Falls Prevention Team which analyzes falls to prevent more from occurring.

"Anybody can fall. It's a big focus," she added. National statistics show that fall risks for seniors increase at age 65, according to Curtis; for disabled people, that risk increases 5-10 years earlier.

Lack of balance is commonly blamed for falls. Curtis explained that balance is actually a complex situation involving eyes, ears, and a person's nervous system. In other words, balance, or lack of balance, can be impacted by medication, vision, and perception of personal position in space. "Someone who believes they have balance issues needs to work with their doctor and their pharmacist. Annual vision exams are very important too," she said.

Curtis offers some tips – as recommended by the National Council on Aging - for fall prevention:
Stay active. Consider taking a class, such as tai chi.
Work with your doctor. Have an annual physical examination, and don't hide facts such as having falls, difficulty with balance, dizziness or lightheadedness.
Make use of motion-detecting lights at home. "Lights are a lot cheaper than a fall."
Make your home safer by installing grab bars at the toilet and tub; look at other assistive devices as needed.
Have a fall plan. Know how to get up if you fall down.
Curtis also recommends A Matter of Balance, a free series of classes offered to people age 60 and over emphasizing strategies to manage falls.
Visit the Bayhealth Classes and Events page or call 1-877-453-7107 for more information.
Share This With Your Friends