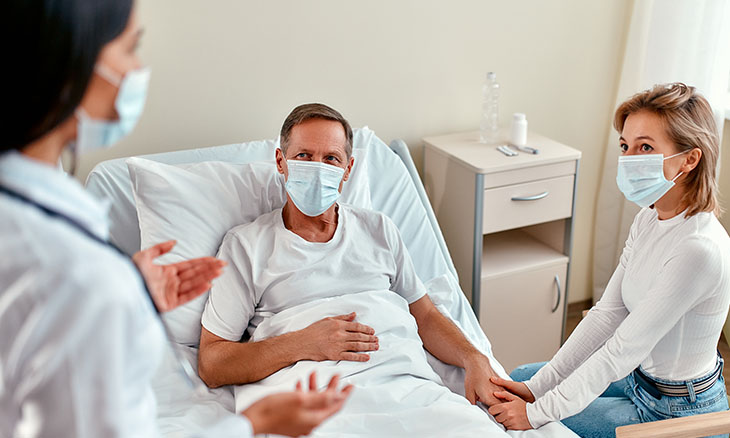 Making Sure Care Has a Partner
Caregivers are essential to every patient's healing process. Through Bayhealth's Care Partner program, anyone age 18 and older admitted to the hospital is asked to designate a care partner and give their contact information. Beyond the nurses, physicians and other staff that provide direct care in the medical setting, care partners may be any adult family member, significant other or friend who will be involved in the patient's care and serve as a spokesperson on their behalf.
The COVID-19 pandemic unfortunately led to restrictions in having others be physically present with patients during hospitalization. However, a care partner's role outside the hospital is equally important. By preparing for a patient's discharge and providing aftercare, they are facilitating their continued recovery. The work of care partners also helps patients avoid any complications that might put them back in the hospital.
Care partners support the patient and their various needs, enabling them to recuperate comfortably back at home and focus on getting well. Bayhealth staff provides care partners with a comprehensive discharge plan and instructions to educate them on assisting patients with prescriptions and aftercare tasks. Depending on a patient's condition, this might encompass basics such as helping them dress, eat and move around. It might also mean providing emotional or spiritual support.
"Care partners are among the most pivotal people in a patient's recovery," said Clinical Educator Karen Merson, MSN, RN, NE-BC. "Patients are given a tremendous amount of information in the hospital — on medications, diet and wound care. A care partner is that extra set of eyes, ears and hands to help once you get home."
Bayhealth invites care partner participation in a formal council structure that meets every other month at Kent and Sussex campuses. This Patient Partnership Council facilitates communication about care and helps identify practices that are working as well as intended.
To learn more about care partner participation, call our Planetree Coordinator at 302-744-6640 or Patient Advocacy at 302-744-7085.
Share This With Your Friends