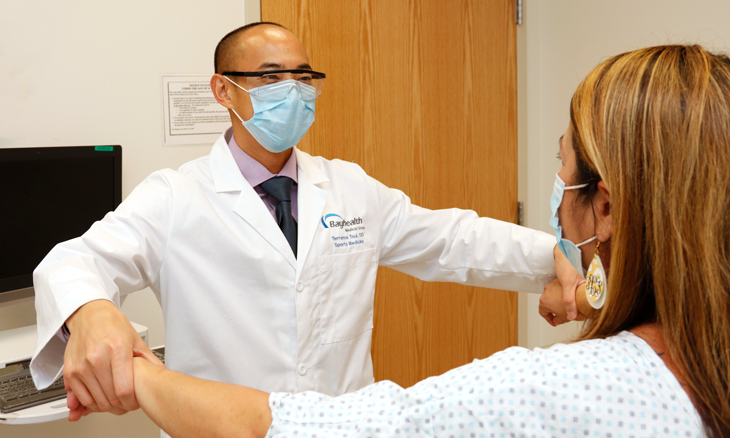 Orthopedics, Bone & Joint, Staying Active
Not Just for Athletes: Sports Medicine Can Benefit Anyone
The name itself is a bit of a misnomer. When many of us hear sports medicine we think about the care an elite athlete might get in training or after suffering an injury. While these are certainly cases that sports medicine providers handle, the scope of this orthopedics specialty goes far beyond that. Bayhealth Sports Medicine Physician Terrence Tsui, DO, discusses this type of medical care and how it can benefit any patients recovering from injury or wanting to regain or improve functionality.
Sports medicine covers the prevention, diagnosis and treatment of a variety of musculoskeletal conditions involving the bones, muscles, tendons, ligaments, and joints. These conditions are experienced by athletes and non-athletes alike, and Dr. Tsui specializes in non-operative management of these conditions.
"Sports medicine can help anyone be able to physically do what they enjoy doing," explained Dr. Tsui. "Whether you're a construction worker who has been hurt on the job or a retiree who wants to do gardening again without discomfort, you can seek care from a sports medicine specialist to assess the orthopedic issue you're experiencing and help you get back on track."
There are two general categories within sports medicine care. The first is acute injuries and the second is wear and tear damage or disorders like arthritis that develop over time. Wear and tear can occur or get worse with sports or exercise, but many times it's simply a result of repetitive movement in our occupations or daily routines. In either case, patients have a loss of mobility or have trouble doing something, such as kneeling down, without significant strain or stress on surrounding body parts, and usually suffer mild to severe pain.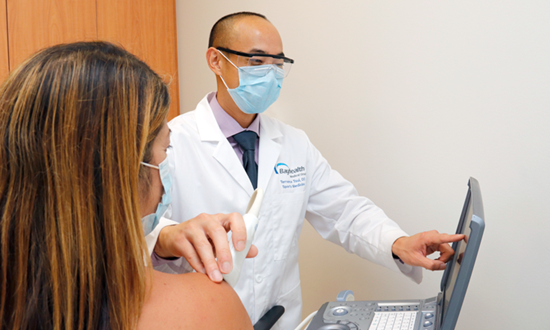 In a sports medicine appointment, the first step Dr. Tsui takes is to fully understand a patient's symptoms, their daily activities and their goals. "Many times a common orthopedic disorder, such as a rotator cuff tear in an older patient for example, can be successfully treated non-operatively. I work closely with the orthopedic surgeons in my practice to refer patients if surgery is determined to be their best option. If it's not, I can provide relief and work with patients on treatment plans for optimal healing."
Two of Dr. Tsui's areas of expertise are concussion management and performing musculoskeletal ultrasound using a special machine that provides real-time analysis of the tendons, nerves, joints, ligaments, and muscles right in the office setting. This ultrasound can be advantageous to immediately identify a problem and begin recommended treatment without having to wait for MRI results. Dr. Tsui also offers ultrasound-guided injections, known to be more accurate and beneficial than what are called palpation-guided injections, those performed without imaging. He uses a live video of the affected tissues to guide insertion of the needle and administer the medication in order to provide effective pain relief. Additionally, these can be used on hard to reach areas, such as the hip joint, to precisely hit the right spot and provide long-lasting symptomatic relief for patients.
"It's very fulfilling to see my patients get back to living life fully and the activities they love to do," said Dr. Tsui. "Sports medicine helps active people stay active."
To learn more about Dr. Tsui and the team at Bayhealth Orthopedics, Dover visit Bayhealth.org/Locations/Orthopaedics-Dover, or call 302-730-4366.
Share This With Your Friends