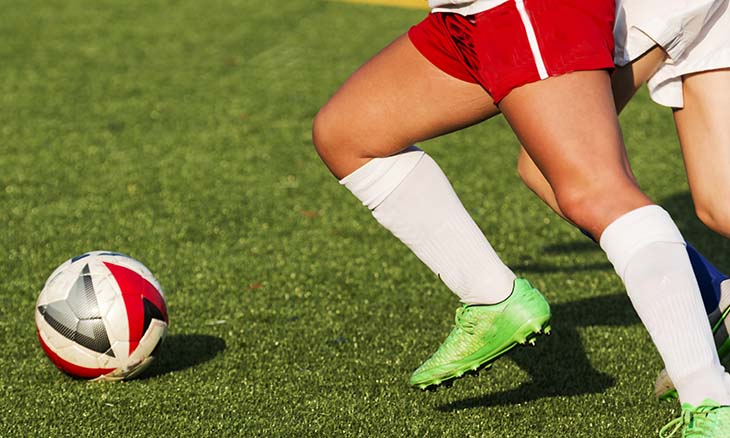 Game-Changing Care for Student Athletes
From goalies to pitchers, pin-hungry wrestlers to free-throw shooters, Delaware's high school athletes will be returning to sports activities with the start of the school year. To start the season on a healthy note, a sports physical is required for most. Bayhealth offers sports physicals at Occupational Health locations in Kent and Sussex counties.

It's understandable that student athletes may be anxious and excited to start the new season. Making a sports physical appointment at least six weeks prior to the season gives plenty of time to identify and treat any health concerns, tend to existing minor injuries, and improve conditioning.
Why does your child need a sports physical?
Many schools require students to have a sports physical, or a pre-participation exam, before they take on the competition. This is for physicians to determine whether it's safe for an athlete to participate in a sport in addition to checking on their overall health and wellness.

The purpose of a sports physical is to:
Help athletes assess and deal with health problems that may or may not interfere with their participation
Identify risk factors that are associated with certain sports
Ensure that any chronic or existing medical conditions are properly managed
Provide tactics and strategies to help prevent injuries and emphasize safe participation in sports
Assess your student athlete's current fitness and general health
What to expect during a sports physical?
One of our physicians will check your child's vitals, joints, eyesight and flexibility. Additionally, a medical history review will be completed, as an understanding of your child's past illnesses, injuries, surgeries or relevant conditions will help detect problems and prevent issues in the future.
How to prepare for a sports physical?
Athletes should dress in comfortable, athletic clothing for the exam. Also, having an open and honest conversation with the physician will set the athlete up for success in the long run. They can make recommendations based on any medical issue you may be experiencing so you can recover fully and quickly.

Bayhealth wants your athlete to have a healthy, injury-free season. Visit Bayhealth.org/Occupational-Health or call 302-678-1303 (Dover), 302-430-5705 (Milford), 302-684-3812 (Milton) to schedule an appointment.
Share This With Your Friends