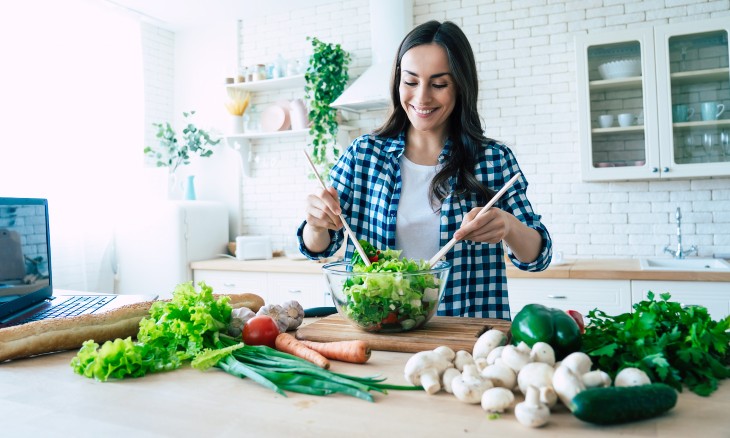 Healthy Habits that Won't Bust Your Budget
Trying to eat a healthy and balanced diet on a budget can seem difficult when pre-packaged processed foods are often less expensive.
According to Diane McArtor, RD, LDN, CDCES, an outpatient dietitian at the
Bayhealth Diabetes Wellness Center
, you don't have to sacrifice nutrition to save a few dollars. "There are several ways you can stretch your grocery budget," she said.
1. Opt for frozen fruits and vegetables
Frozen produce is a great alternative to fresh produce. "Fresh fruits and veggies are always best, but they can get pricey, especially when they aren't in season," McArtor said. Frozen produce has almost as much nutritional value as fresh and it's available year-round. You can buy big bags of frozen fruits and vegetables and use them as you go—the rest can remain safely in the freezer.
2. Stock up during sales
Make sure you check sales flyers for your favorite grocery store. If one of your pantry staples is on sale, stock up on it. Additionally, look for coupons for products you frequently use. Even small savings can start to quickly add up.
3. Buy generic rather than name-brand
Most grocery stores offer their own brand of products, from chicken broth to condiments. Buying the generic brand helps you save money without sacrificing flavor and quality.
4. Make use of your leftovers
To get the most out of your food, use leftovers to create other dishes throughout the week. "You can use leftover veggies in omelets, quesadillas, quiches, or add to spaghetti sauce or stir fry," McArtor said. Not only will this tip save a few extra bucks, but it will help you and your family cut down on waste.
5. Plan your meals in advance
Take some time to think about what you and your family will eat throughout the week. Make a list of ingredients and stick to it. While a package of cookies or a bag of potato chips might look tempting in the store, sticking to your list will ensure you spend only what you need to. On a similar note, don't grocery shop while you're hungry, or you might be too tempted to give into impulse buys.
6. Try other forms of protein
When we think protein, we typically think meat. But there are other forms that are less expensive and just as rich in nutrients. "Meatless Mondays can save you money and help the environment," McArtor said. Try eggs, nut butters and beans to get your fill of protein. But, if you prefer meat, consider buying canned tuna or chicken, or rotisserie chicken, as these options are often more cost effective.
Following these easy tips can help you and your family eat healthier without breaking the bank.
Visit
Bayhealth.org/Community-Health-and-Wellness
for more articles like this one.
Share This With Your Friends