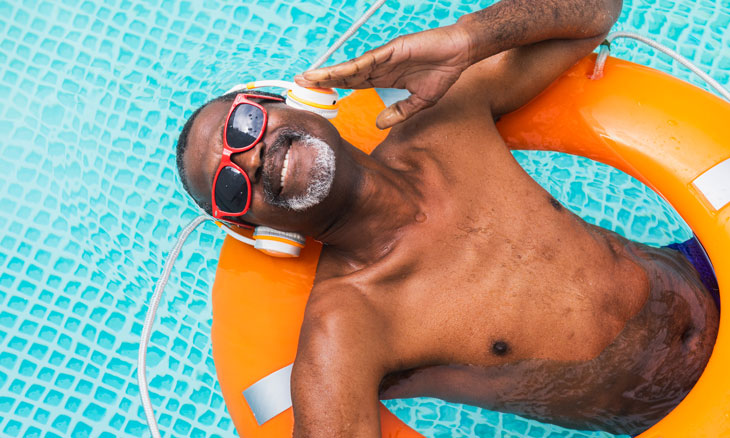 Healthy Aging, Heart & Vascular, Mental Health, Nutrition, Staying Active
Six Ways to Reap the Health Benefits of Summer
Summertime in Delaware is the perfect time to get outside and change the way we eat. From improved cardiovascular health, reduced stress, and increased muscle strength to greater weight loss summer weather has enormous health benefits. Bayhealth Family Medicine Physician Laurianne Haynes, MD, shares six ways to enjoy summer activities and flavors that will have you reaping health benefits.
#1 Jump in the Pool
What better way to stay cool and get one of the best possible workouts? Even relaxed swims can burn up to 500 calories per hour. If you want to kick it up a notch, wear water shoes and webbed gloves to provide even more water resistance. There are many aerobic workouts you can do in the pool as well. Try water jogging in waist-high water. Start out trying to jog for 1-to-3-minute intervals. "Working out in the water has the added benefit of being easy on your joints and may even help reduce pain for other ailments such as arthritis and fibromyalgia," said Dr. Haynes.
#2 Go Kayaking
Kayaking is another activity that is easy on the hip and knee joints but will give you a great cardio and upper body workout. Paddling not only strengthens your arms and shoulders, but it is also a muscle building activity for your back, chest and abs. The twisting motion and balancing work those core areas. One hour of kayaking can torch up to 400 calories. Don't have a kayak? Don't worry. There are many places around Delaware where you can rent one for as little as $9 per hour.
#3 Hit the Trails
Prefer dry land? Well, Delaware has a trail for you. Enjoy one of Dr. Haynes' other favorite activities by going on a hike on one of the over 150 trails our great state has to offer, including over 50 that are wheelchair and stroller friendly. "There are miles of easy to walk trails nearby," said Dr. Haynes. Try the 1.5-mile loop at Hunn Nature Trail or, if you want more of a moderate challenge, head upstate to the scenic, serene trails of White Clay Creek or Brandywine Creek State Parks. A 30-minute walk on an easy trail can burn up to 180 calories.
#4 Spruce Up the Yard
Yard work can be one of the most satisfying of all summertime activities because you get to admire your work when you are finished. Mowing, weeding and planting all have cardiovascular benefits. And you get a total body workout that can increase strength and flexibility and can burn from 200 to 400 calories per hour. It is another stress and depression reliever as well. So, get out there and plant those butterfly milkweed, cone flowers and peach trees and enjoy the beauty of your space.
#5 Drink More Water
We all know that drinking water is essential to regulating bodily functions, including our metabolism. Sometimes it is hard to do though but the summer heat definitely makes it easier. So, while you are doing all those activities above, make sure you have plenty of water to keep you hydrated.

Do you have trouble drinking just plain water? Try Detox Water, water infused with fresh fruit, vegetables and herbs to add even more benefits and flavor. One of Dr. Haynes' favorites is citrus berry. Put slices (peel and all) of ½ an orange, lime and lemon, 1 cup each of blueberries and strawberries, 3 small slices of ginger, 20 mint leaves and 4 cups of ice into a large pitcher then fill with water. Leave the pitcher in the refrigerator for about 45 minutes. After you drink all the water, you can keep refilling the pitcher with water until it starts to lose flavor before changing the ingredients.
#6 Eat Cool Foods
In winter we crave those warm, comfort foods but summer heat actually decreases our appetites. Take advantage of this and your body's extra yearning for hydration by eating cool vegetable and fruit salads. These foods provide nutrients that are so good for us and many such as cucumbers, lettuce, tomatoes, watermelon, strawberries, and cantaloupe are also fluid rich.
Visit
Bayhealth.org/Community-Health- And-Wellness
for more stories like this.
Share This With Your Friends