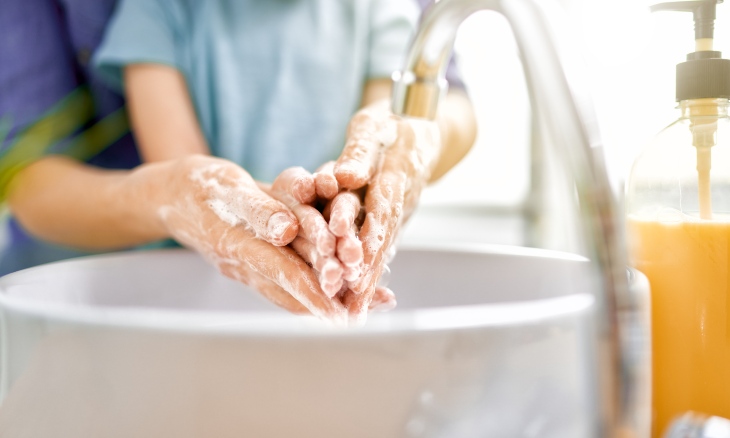 The Basics of Back-to-School Health
It's inevitable every year – fun-filled, fast-paced summertime shifts into autumn. Soon enough, we're trading flip flops and suntans for new school sneakers and backpacks. It's time again for returning to slower rhythms in our homes, building structure back into our schedules, and immersing ourselves back into school activities. In order to avoid the negative impact this transition can often have on the health of our children, Bayhealth Pediatrician
Adaobi Enekwizu, MD
, shares some tips to keep our kids healthy this school year.
Parents should focus on the basics:
1. Sleep.
During the summer, kids often get into a routine of staying up late which means they are sleeping late into the morning. You may be feeling the affects of poor sleep habits now that we're a few weeks into the school year. "Prioritizing bedtime routines, quality sleep and encouraging kids to put down the screens at least an hour in advance of bedtime is important," said Dr. Enekwizu. Getting adequate sleep—which is 8 to 10 hours for teens and 9 to 12 hours for children aged 12 and younger—benefits their behavior, memory and ability to learn.
2. Nutrition.
Focus on the rainbow diet and quality whole foods. Filling your child's plate with fruits and veggies of all colors will give them the vitamins and minerals they need to operate at their best. "Place importance on feeding kids a balanced breakfast that will help them to sustain their energy levels throughout the morning at school," Dr. Enekwizu shared. Include whole grains, good sources of protein, and healthy fats—nuts, avocado, or full-fat Greek yogurt—in their lunch boxes. Avoid anything full of sugar or empty carbohydrates. Diet can make a big impact on their behavior and health.
3. Exercise.
Don't underestimate the power of endorphins. It boosts the child's mood and helps them get out extra energy that might be directed into misbehavior in the classroom. "Regular exercise for kids builds stronger bones and muscles, helps lower anxiety and depression, and reduces risks for other health conditions," shared Dr. Enekwizu. Exercise has endless benefits, especially for children, so at least one hour is recommended each day. Don't forget to help kids stay well-hydrated before and after exercise.
4. Supplements.
If a child is getting a well-balanced diet, usually supplements aren't necessary. "Water-soluble multivitamins would be a good solution because the body takes what it needs and rids itself of the rest," said Dr. Enekwizu. If your child is anemic, you can discuss an iron supplement with their pediatrician.

5. Hygiene.
Teach kids about the importance of good hygiene—avoid touching their face, washing hands properly, covering their cough or sneeze. Take the time to explain the "why" of good hygiene, helping kids understand so they take it more seriously. Pack tissues and a small hand sanitizer in their backpack so they don't have to share those things. "If kids are feeling sick, wearing a high-quality mask could help prevent the spread of germs," Dr. Enekwizu shared.

6. Physicals.
Physicals are important, and they are not only for kids participating in sports. "Well-checks or physicals performed regularly by your child's pediatrician are beneficial to their health—physically, mentally and emotionally," said Dr. Enekwizu. Their doctor can keep track of any changes in behavior, appearance, etc. and help them accordingly, if anything is off.
7. Immunizations.
"Discuss with your child's doctor about which immunizations are right for them and keep them up to date," said Dr. Enekwizu. Find out from your school what their policy is on masks, preventative protocol, and vaccines. And of course, if your child is sick with a fever or any other symptoms, keep them home until it's safe for them to return to school.
Dr. Enekwizu sees patients at
Bayhealth Pediatrics
in Milford. Visit
Bayhealth.org/Pediatrics
or call
302-725-3550
to schedule an appointment.
Share This With Your Friends