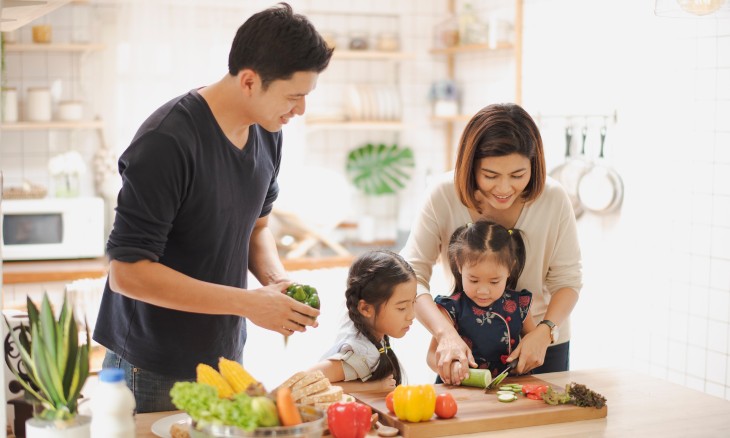 Four Easy Ways to be a Heart-Healthy Family
Starting and maintaining heart healthy habits can be a challenge, but it can be easier and more fun when you get your whole family involved. This is the advice of Bayhealth Family Medicine, Dover Resident Physician Eric Moseley, MD. Being heart healthy as a family makes parents more accountable, and it builds healthy habits for kids that are easier for them to maintain into their adulthood. Here are a few tips to help you reach your goal of being a heart-healthy family.
1. Don't over schedule.
Over scheduling everyone in the family can lead to stress and bad habits, like grabbing fast food on the run. It is great for your children to be involved in extracurricular activities like sports and dance, but they do not all have to be in something at once. Weigh the pros and cons. "No matter how busy life gets, you need to make time to take care of yourself and your family," says Dr. Moseley. Learn to set limits to focus on what is really important.
2. Plan meals together.
Get your children involved in meal planning. Give them some recipe options. Let them choose one and help pick out the ingredients at the grocery store or farmers market. Have them help you with preparing it also. Make sure each meal includes lean proteins, vegetables, fruit and whole grains. Don't forget the omega-3s, which are so good for our heart and found in most fish.
3. Get moving.
Plan for at least three hours total of weekly active family times. You could plant a vegetable garden to help with those healthy meals, bike, hike or swim. If your kids are in sports and you take them to practices, set a good example and walk laps around the field as you watch them rather than sitting on the sidelines.
4. Drink water.
Water should be your family's main drink. Everyone should be drinking it throughout the day. Limit sodas and juices to one meal or occasionally throughout the week.
Remember you don't have to do it all at once. Choose one of the above tips, get used to it and then add another.
Visit
Bayhealth.org/Family-Medicine
to learn more about the Bayhealth Family Medicine, Dover practice and call 302-725-3200 to schedule an appointment for your family.
Share This With Your Friends