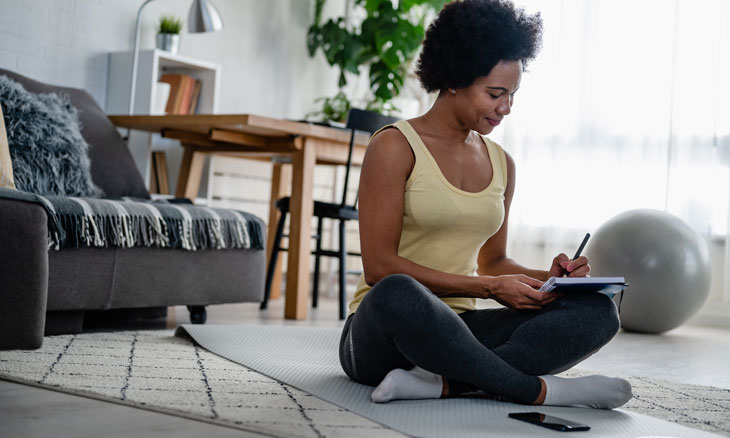 Mental Health, Seasonal Tips
Don't Give Up on Your New Year's Resolution
When the first day of the year rolls around, many people are highly motivated to start their New Year's resolutions, whether they want to eat better or reduce alcohol consumption.
But, as we get further into January, maintaining that initial motivation gets harder. In fact, the number of people sticking to their plan drops significantly by February.
Unfortunately, failure can create an opportunity to pile on self-criticism. So how can you stay on track?
Bayhealth Family Medicine Physician
Brintha Vasagar, MD
, says people with higher self-efficacy – those who hold a more positive outlook toward themselves – are more likely to achieve their goals.
She offers some suggestions for successfully sticking to your goals for 2023:
• Choose a specific goal. "Resolving to lose weight is very broad, so try choosing something more specific," Dr. Vasagar says. Consider setting smaller, achievable goals like going on a walk three times per week or working toward running a 5k race.
• Have a positive outlook. "The more optimistic you are, the more likely you are to achieve your goals," she says. Make time for self-care and reflection. Try meditation or join a yoga class.
• Find support. The more support you have, the more motivated you will be to achieve your goals. "Plug into your support system, like family or friends. Going to therapy is never a bad idea. Quick fixes aren't long-term solutions."
• Start small. Instead of jumping into a strict diet, try substituting unhealthy foods with more nutritious foods. "Being successful at one thing will help motivate you to take other steps toward your goal."
• Remember that change takes time. Unhealthy habits likely developed over several years, so it will take more than a few days or weeks to unlearn them. "We usually try to tackle the most difficult problem we have, making you less likely to create change."
Visit
Bayhealth.org/Find-a-Doctor
to find a primary care doctor to help you stay healthy.
Share This With Your Friends