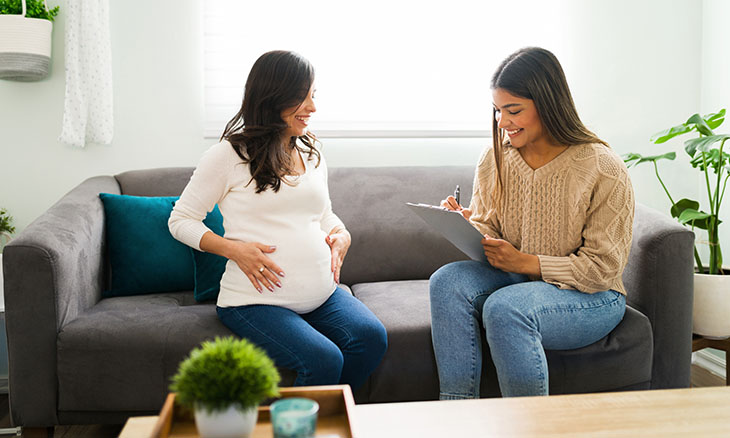 Experienced, Knowledgeable and Compassionate: The Role of a Midwife
When it comes to expecting a child, a mother should consider all her options for receiving the right type of care for her growing family. At Bayhealth, we offer both traditional OB-GYN care and the holistic approach given by midwives. A mother's pregnancy and birth are personal to them - and finding the clinician who best meets their needs is essential to a happy experience.
Midwives are a prominent piece of the maternal-fetal field. A midwife is a healthcare practitioner that works alongside expecting mothers during pregnancy, childbirth, postpartum and even, newborn care. Bayhealth Certified Nurse Midwives Holly Walton, CNM, and
Theresa A. Piper, CNM
, share what to expect when receiving care from a midwife versus an OB-GYN.
A midwife is holistically-centered, focused more on the natural birth experience with very little medical interventions—such as an epidural, pain medication, induction methods, or surgical procedures. Typically, midwives assist expecting moms who are generally healthy with low-risk pregnancies.
There is a distinction between an OB-GYN and a midwife—not to downplay either role—both are important and often work together to care for a mother and her baby. A midwife is not a doctor, so while this limits them in ways, it also gives them more flexibility in other ways.
Midwives can spend more time with an expecting mother during appointments because they often have fewer patients. This usually allows their patients to have direct access to them and time for thoroughly talking through their birth plan, or any issues/concerns they might be experiencing. "It's all about the relationships," shares Walton. "As a midwife, experiencing a monumental life moment, like birth, but also all the preparation leading up to it and postpartum care—I really cherish it."
While OB-GYN physicians are trained and ready for emergencies, midwives are expecting pregnancy and labor to progress smoothly as a natural life process with little to no issues. "Every birth feels like the first one," shared Piper. "They are all unique and extraordinary in their own way—It's an honor to be such a special part of our patient's lives."
It is so valuable, especially after having your baby, to have support from a professional who knows you and your child well. Both Walton and Piper see patients at the Bayhealth Women's Care, Sussex Campus practice.
Visit
Bayhealth.org/Medical-Group
to learn more about the practice. To schedule an appointment please call
302-424-6511
.
Share This With Your Friends