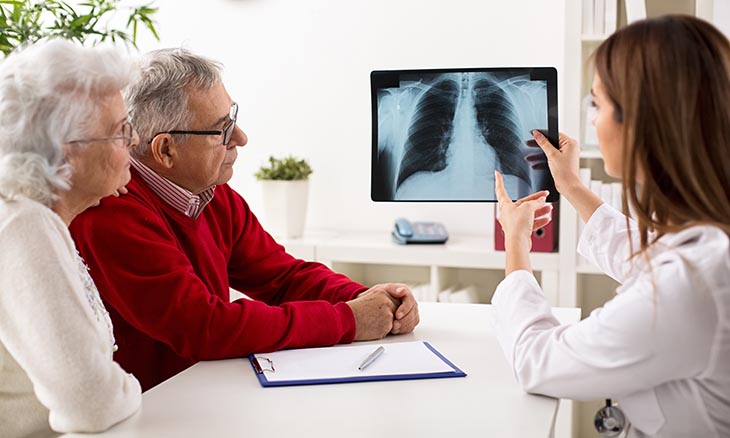 Wondering When to Ask for a Lung Cancer Screening?
Take a deep breath — it might be time to get screened. It's important to be aware if you are at risk and should be checked. In order to catch lung cancer early, screening is vital. Nurse Navigator Trina Turner, RN, from the Bayhealth Cancer Center - a member of the Penn Cancer Network - shares four reasons to consider being screened for lung cancer:
Early detection is key - Believe it or not, screening is not recommended for just anyone. If you have recently quit smoking or have a history of smoking for 20 pack-years* and are between 50-80 years old, the U.S. Preventive Services Task Force (USPTF) recommends you be screened. Treatment will be more effective if the disease is detected before it can spread.


Screening comes before symptoms - The purpose of screening is to uncover anything irregular while you are asymptomatic. You do not want to wait until you have symptoms of lung cancer. If you are experiencing symptoms, it is likely because the cancer has already advanced.


Screening is simple - At Bayhealth, in our Lung Cancer Screening Program, we offer a low dose CT (LDCT) that is fast, painless, and noninvasive. LDCT screening can identify pre-cancerous nodules that help physicians decide to do further testing or biopsies. Patients with a risk of lung cancer can be screened yearly.


Proactive Risks - While lung cancer screening may present a few risks, they are proactive risks. Many times, a lung cancer screening catches something else potentially dangerous that the patient did not know about. The screening may also detect something abnormal that may not be cancer but can now be closely monitored.
* A pack-year is smoking an average of one pack of cigarettes per day for one year.

If you have a medical or family history of lung cancer or disease, it is always best to discuss your screening options with your primary physician. Bayhealth is here to help you in your next steps of being screened and breathing clearly.

Visit Bayhealth.org/screenings/lung-cancer for more information.
Share This With Your Friends