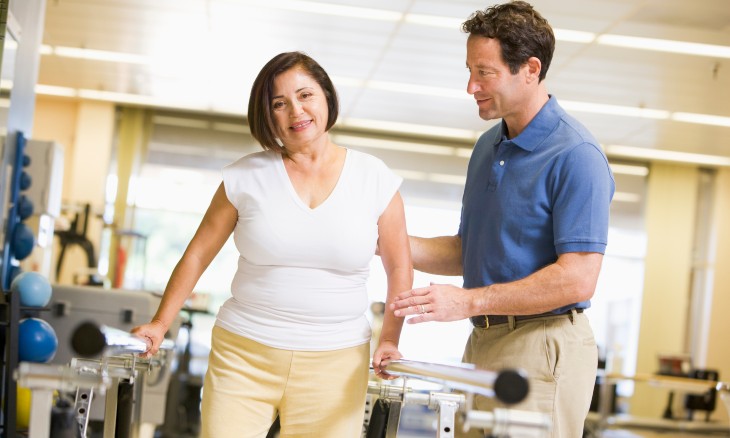 Outpatient Therapy, Healthy Aging
How Physical Therapy Can Benefit You
Did you know that physical therapy has been around for more than 100 years? From its origins as reconstruction aides in World War 1, the physical therapy profession has greatly evolved and expanded over time. Physical therapists, often called PTs, and physical therapist assistants (PTAs) are movement experts who provide hands-on care, education, and prescribed interventions to maximize physical function, improve mobility, resolve pain, and manage chronic conditions. Bayhealth PTA Victoria Zeitler explains that physical therapy today is much more specialized and is used in a variety of settings to work with each patient's unique needs.

Here are a few facts about physical therapy and the services available at Bayhealth to help you or a loved one when recovering from an injury or a medical condition.
For hospitalized patients, physical therapists are part of a care team providing consults and evaluating level of mobility to help determine when patients are ready to safely go home and if other rehabilitation services may be necessary.


Bayhealth Sussex Campus has its own hospital-based Inpatient Rehabilitation unit that offers patients multidisciplinary therapy services at a higher intensity over a short stay to maximize recovery.


Strategic partnerships between Bayhealth and PAM Rehabilitation and with BAYADA Home Health Care at Bayhealth means patients can experience continuity of care and a seamless transition if they need the services of a rehabilitative facility or services in their home.


Within the field of physical therapy there are a total of 10 credential specializations in which credentialed specialists apply their superior knowledge and advanced clinical proficiency to progress a patient's functional recovery. Bayhealth offers many of these specializations, including cardiovascular and pulmonary, geriatrics, pediatrics, neurology, orthopedics, sports, and women's health.


Outpatient physical therapy services are available for both pediatric and adult patients at Bayhealth facilities in Dover and Milford.
The use of physical therapy is well known to decrease hospital readmission rates, improve functional recovery, and improve the quality of life of our community members. "Our work focuses on evidence-based education, collaboration with our clinical partners, and the promotion of diversity," said Zeitler. "From hospital rooms to home, Bayhealth is proud to offer individualized physical therapy services that promote health and wellbeing for all who enter our doors."

Visit Bayhealth.org/Services/Outpatient-Therapy to learn more about physical therapy and other therapy services Bayhealth offers, such as aquatic, hand, occupational, speech language and pelvic floor therapies.
Share This With Your Friends