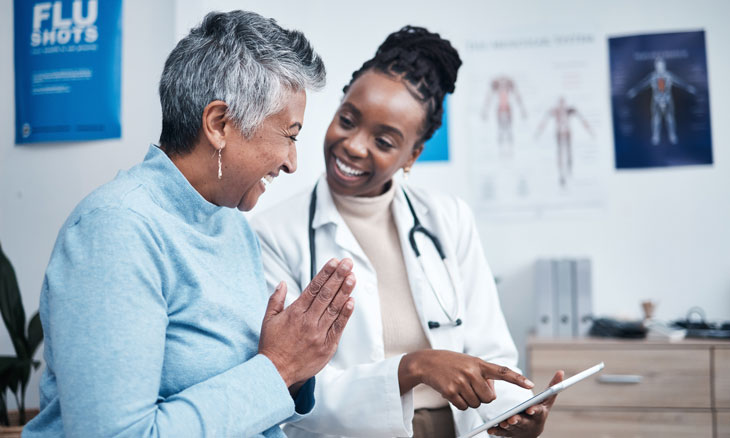 Women's Health, Men's Health
Don't Neglect Your Health
The demands of everyday life keep us all busy, so it's easy to forget when we're due to see the doctor or get a health screening. That's why it's so important to have a primary care physician (PCP) you can trust to keep you on track. Bayhealth Primary Care Physician Shailly Saini, MD, highlights the importance of making your health a priority and staying up to date with routine medical care, instead of putting it on the back burner.

"Good health starts with primary care," said Dr. Saini. "As primary care doctors we are there to listen to your medical concerns, to share our knowledge and present options, and to help steer you on a healthy path."

Dr. Saini shares five reasons why you shouldn't delay making your health a priority.
It's never too early or late to establish care with a PCP. It's a common myth that young people don't need to go to the doctor. In fact, patients who build a good relationship with a doctor from a young age have better health outcomes overall.
Primary care helps you stay healthy at every age. You should not only go to the doctor when you're sick, but also keep up with annual wellness visits. Some medical conditions have no warning signs at all, so your PCP can help prevent a serious or chronic disease from developing.
Remember that small health problems can turn into bigger problems when you ignore them. It's better to have something checked out early than to risk a more serious health situation and potentially—more costly treatment later.
To best care for others in your life, you first have to meet your own healthcare needs. "As a new mom of two kids, I realize the importance of this. For the same reason that in an emergency you need to put on your own oxygen mask before helping others, when you address your health first you're better equipped to take care of those who depend on you."
Don't be hesitant to bring something up to the doctor when you go. "I strive to establish a level of comfort with patients. I want to be the first person that people come to so I can guide them in their next steps."
Dr. Saini sees patients of all ages at Bayhealth Primary Care, Middletown. If you're in need of a PCP, call the practice at 302-464-3954 to schedule an appointment today or go to Bayhealth.org/Find-a-Doctor to search our directory of physicians near you.
Share This With Your Friends