All Patient Stories, Orthopedics
Katie's Race to Recovery
Since age 7, Katie Piotti has raced bikes and has had more than her fair share of orthopaedic injuries. While practicing on the local race track for the upcoming bike motocross (BMX) national final, her tires slipped around a turn. She knew immediately she'd broken her elbow after landing on it. She was rushed by ambulance to the Bayhealth Emergency and Trauma Center, Sussex Campus five miles away.
The 34-year-old had significant wounds and an open fracture of her elbow. "When the bone goes through the skin and is exposed to the outside environment, it can affect healing and be more challenging to treat," explained Andrew Park, MD, of Bayhealth Orthopaedics, the orthopaedic surgeon on call that evening. The high speed and impact from Piotti's crash, coupled with the fact that she'd had prior elbow fractures that affected the way the bone broke — a fragment of bone pulled away with the tendon — further complicated matters.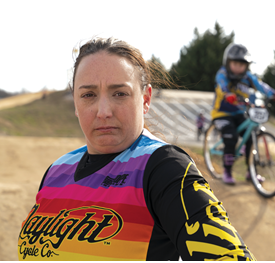 Piotti is an Arizona native who moved to Wilmington, Delaware, just five years ago. Initially she was hesitant about an overnight stay and surgery in a hospital that was unfamiliar to her. She also had concerns about permanently losing any range of motion or strength that would limit her racing abilities. Through the largest BMX racing organization, she's ranked fourth nationally for amateurs in her age group, and first in her region. As a teen, she'd decided against going professional after a severe hand injury. College and a future career suddenly moved up her priority list. Now she works in analytics, building custom reporting software by day.
And she returned to the sport she loves two years ago as a way to become more connected here on the East Coast. She began coaching young riders, from ages 4 to 17. "I mentor a lot of female riders. There's some stigma around it for girls, particularly as they get older, so I help them work through the pressures of the sport and how to balance it with other aspects of their lives," she said.
Dr. Park had presented Piotti with treatment options, but said that surgical repair within 24–48 hours would minimize infection risk and provide the best outcome. After a frank and thorough discussion, she felt comfortable about his expertise, in traumatic upper extremity injuries specifically, and was ready to move forward. "My background is in engineering, so Dr. Park explained mechanically what my injury looked like and how the surgery would work," said Piotti. "He totally put me at ease."
The next morning, Dr. Park surgically repaired a lot of Piotti's soft tissue and implanted a permanent stainless steel plate with screws to secure her elbow joint. "We were both very open and honest with one another about expectations," he said. "She was a very motivated patient and was able to get all her motion back sooner than expected."
Hand and upper extremity injuries require specialized care, as well as therapies, for optimal rehabilitation. While Piotti did her physical therapy close to her home up north, Bayhealth has certified hand therapists who work one-on-one with patients with conditions affecting anywhere from shoulders down to the fingers. Our orthopaedic surgeons collaborate with them to restore patients' function and get them back to their previous activity levels.
In Piotti's case, she's working out on her own to regain full strength in her triceps muscle, but can fully bend and straighten her arm and, remarkably, has already returned to racing. "Dr. Park was absolutely fantastic. Overall it was a really good experience," she said. And her mentees, who she says were more devastated than she was about missing the finals and showered her with warm wishes after her injury, are excited to have her back at the track.
Visit Bayhealth.org/Ortho to learn about orthopaedic care at Bayhealth.
Share This With Your Friends