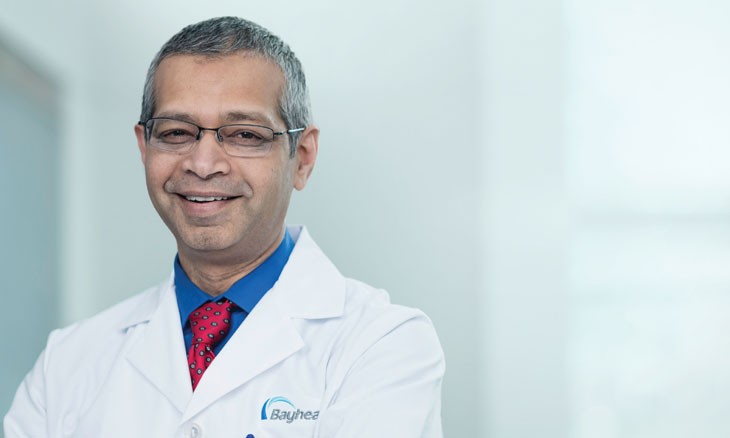 Hey, fellas, don't put off those appointments!
It's no secret women are better about going to the doctor than men. When it comes to preventive care, some studies have found women are three times more likely than men to go to annual appointments and undergo screening. Preventive care is crucial to staying ahead of potential health problems. Gastroenterologist Bhavin Dave, MD, explains why colon screenings in particular are so important.
DO I NEED A COLON SCREENING?
Everyone needs to be screened. It's important to understand we aren't screening for colon cancer, we are screening to prevent colon cancer. We're looking for small polyps or growths that could eventually become cancerous. One of the most common screening tools is a colonoscopy. The general public is advised to begin screenings at age 50. African-American men should be screened beginning at age 45 due to higher risk. Those with a family history typically begin screenings 10 years earlier than the age the family member was when they were diagnosed with colon cancer.
HOW DO I KNOW IF MY COLONOSCOPY WAS EFFECTIVE?
After a procedure it's important for patients to confirm with their doctors the procedure was effective. There are simple questions you can ask. First, you can ask for the withdrawal time. That's the time from when the scope reached the target area to when the scope was removed. This should be roughly six to eight minutes to ensure the doctor had ample time to see and remove any polyps. The second questions is, "How effective was my prep." A thorough prep ensures the area was clear of stool, which increases the efficiency of the screening. Good prep helps detect flat polyps, which can sometimes be more aggressive. Finally, if polyps were removed, ask what type of polyps they were.
WHAT IS MY OVERALL RISK OF COLON CANCER?
Lifetime incidents of colon cancer in the U.S. are roughly five percent. That means five out of every 100 people, and it's higher for men than women. While it seems low, there are 150,000 new cases of colon cancer each year in the U.S. Colon cancer is a preventable disease, and it's important for individuals to do everything they can to prevent it. Risk factors for getting colon cancer include smoking, alcohol use, and consuming red and processed meat. Ways to prevent colon cancer include exercise, daily aspirin, and a high-fiber diet.

To find a gastroenterologist, call 1-866-BAY-DOCS to learn about providers in your area.
Share This With Your Friends