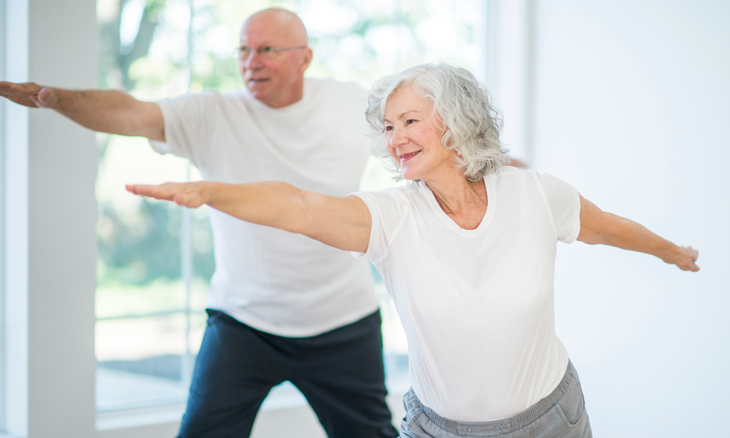 Balancing the effects of aging
Getting old is for the birds. At least that's how the "old" saying goes. But in today's world, aging doesn't have to be a scary or overwhelming process. No one can stop the clock on aging — but everyone can be prepared for some of the challenges that may lie ahead.

"Having a plan in place makes all the different when it comes to getting older," said Dan Wagner, an educator at Bayhealth who specializes in teaching classes on aging and balance. "A lot of people are afraid of getting older. We want to help take away that fear by showing people what changes will likely occur, and how to stay on top of them."

A big part of that is falls prevention. Many seniors think falls are a normal part of the aging process, and this is simply not true. "Falls prevention is a must for older patients," said Preeti Gupta, MD, with Bayhealth Primary Care, Milford. "The risk of falls increases as we age, as does the likelihood we'll be seriously hurt by a fall. We need to do all we can to stop falls before they happen."

Many changes take place in the body and our environment over time, so it's important to be aware, and talk to your doctor about any concerns.
Muscle Changes
As we get older, our muscles are slowly getting weaker. "It happens over time and it's hard to avoid," said Wagner. "Staying active and getting out helps keep your skills sharp. The more homebound you are, the more at risk you are of losing your flexibility and strength."

It's also important to maintain a healthy lifestyle. "I still want my older patients to exercise as often as possible, especially strength training," said Dr. Gupta. "Every little bit will make a big difference."
Vision and Hearing
The normal aging process causes gradual losses of the sensory system, which includes vision and hearing. "These changes begin around age 50. At this time vision can start to be an issue, as well as hearing. Both vision and hearing play a crucial role in balance," said Dr. Gupta. "It's important that older patients continue to go to the eye doctor for regular visits and have their hearing checked at their primary care office."
Medications
Many seniors may not realize that the medications they take can affect their balance. Taking certain medications in combination can also be problematic.

"Our best advice to older patients is to use only one pharmacy," said Wagner. "Some patients will use the pharmacy closest to each of their doctors. In that instance, the pharmacists aren't able to see all of the medications a patient is taking, and won't be able to identify harmful medication interactions."
Household Dangers
While many people don't want to make any changes to their home, simple precautions can have a big impact. "It's very easy for our older patients to make simple changes to their home to increase safety," said Dr. Gupta. "Removing loose rugs, reducing the crowding of furniture, getting rid of any clutter on staircases and in hallways, having proper lighting in the house, and using non-slippery footwear go a long way toward reducing the risk of falls."
Stay Educated
In the end, it's important older adults realize aging isn't what causes falls, it's the underlying issues. Falls don't have to be a normal part of everyday life. One easy way to learn more about falls prevention and simple changes is to take the "A Matter of Balance" courses offered at Bayhealth.

"I love teaching these classes," said Wagner. "They are a great way for older folks to come learn more about the changes that take place as people get older and what simple steps they can take to stay active."

Preventing falls is critical when it comes to ensuring our aging population can continue to live at home in a safe environment.

"We want older adults to get out, be social, and stay active," said Dr. Gupta. "Aging doesn't have to be overwhelming; there are ways to stay on top of the changes as they come."

If you are in need of a physician, call 1-866-BAY-DOCS (229-3627) to find a provider that fits your needs.
Find your balance at a free Bayhealth class
Many older adults experience concerns about falling and restrict their activities. A Matter of Balance is an award-winning program designed to manage falls and increase activity levels.

These free classes are held once a week for eight weeks. The classes are two hours each. The program is offered at various locations statewide — including at Bayhealth in Smyrna, Dover, and Milford. Pre-registration is required.

Visit Bayhealth's Classes and Events page or call 302-744-7135 to learn more about the A Matter of Balance classes and our STEPS to Healthy Aging program.
Share This With Your Friends