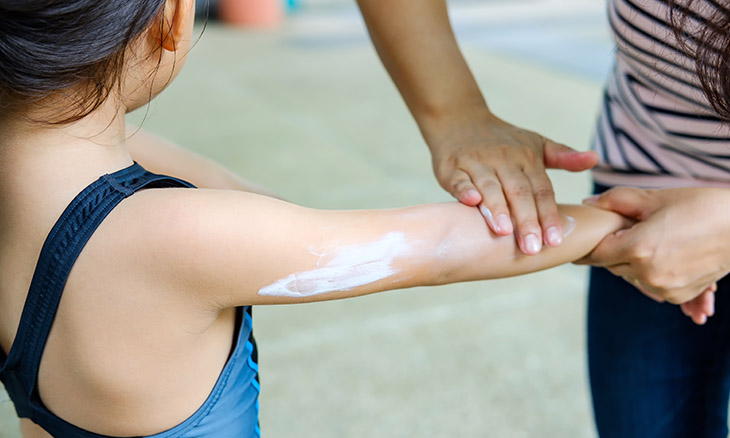 Safety in the sun for everyone
There's nothing better than fun in the sun during the summer months in Delaware. The beaches are the perfect place to enjoy time with family and friends. Whether it's sitting in the sand, strolling on the boardwalk or enjoying the ocean water, there's so much to do! Primary care doctor Bryan Villar, MD, with Bayhealth Primary Care, Georgetown, offers simple tips to ensure everyone stays safe while enjoying the beach this summer.
Safe sun
During the hot summer months, remember the sun is strongest during the afternoon hours. "I always tell patients the safest sun is in the morning between sunrise and 10 a.m. and then again after 4 p.m. The time between 10 a.m. and 4 p.m. is when the sun is the strongest," said Dr. Villar. At peak hours, Dr. Villar suggests seeking shade whenever possible, by bringing a beach umbrella, for example.
Sunscreen
During the summer months, sunscreen is a must. Dr. Villar advises patients to use SPF 15 or higher. Reapply every two hours as well as after being in the water and when you find yourself sweating. It's also critical that parents not forget themselves. "It's easy for parents with young kids to be so concerned with the little ones that they forget to protect themselves," said Dr. Villar. "Not only is it important for parents to have their sunscreen on, but it also sets a good example for the kids."

Dr. Villar says both lotion and spray sunscreen are effective. Everyone, no matter their skin tone, should be using sunscreen. "Even people with darker skin can get skin cancer," said Dr. Villar. "People with a strong family history of skin cancer may want to consider avoiding the sun whenever possible."
Protective clothing
In addition to sunscreen, clothing can serve as a layer of protection. Many bathing suits made for children include long-sleeved tops (like a rash guard) that include SPF in the fabric. Adults should always be wearing a hat and can also buy sun-protective clothing. "Everyone should be taking these precautions, but those with light hair and pale skin should be especially careful since they are more prone to getting skin cancer," said Dr. Villar.
Eye protection
Sunglasses are not only a trendy accessory, they also serve a purpose — especially for older adults. "If you are taking grandparents to the beach with you this summer, make sure they are wearing their sunglasses," said Dr. Villar. "Older adults run the risk of cataracts, so eyewear is important. It's also a good idea to get young kids in the habit of wearing sunglasses at an early age."
Water safety
Whether it's swimming in the ocean or pool, Dr. Villar has one simple rule: always keep children within an arm's length. "Even if the kids are strong swimmers, you can't be too careful," said Dr. Villar. "Kids need to be supervised even if they are wearing flotation devices." Wearing life jackets on boats is a must for children at all times, per Coast Guard regulations.
Hydration
Staying hydrated, especially during the heat of summer, is good for your health. "Always make sure you have plenty of water for a day at the beach," said Dr. Villar. "It's also important for anyone who is on medications to be extra careful, since they are more prone to dehydration." Signs of dehydration include thirst, dizziness and fatigue.
Burn care
Even when you take precautions, the reality is sunburns still happen. If you get a burn, use aloe or lotion to soothe the skin. Dr. Villar also notes that you shouldn't peel the skin after the burn, because the skin under the burn is still healing.
Relaxation
In the end, Dr. Villar says he encourages his patients to take vacations and get to places like the beach as often as they can. "Vacations are a great way to reduce stress, spend time with family and feel more balanced," said Dr. Villar. "I always want my patients to take every precaution while also having a great time on vacation."
For more more valuable tips on all things health and wellness, visit the
Community Health and Wellness
page.
Share This With Your Friends