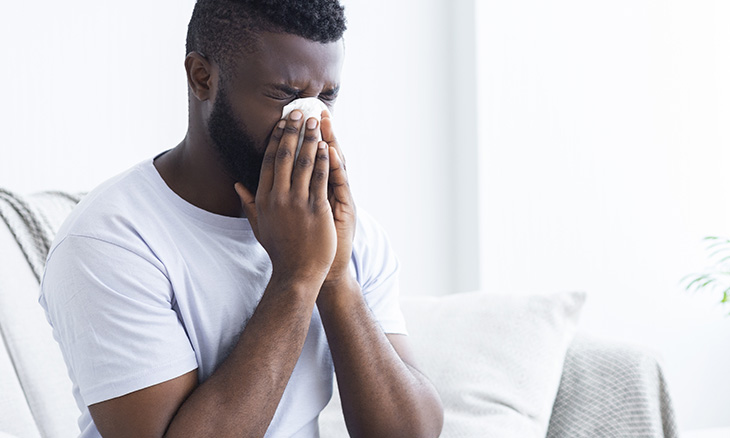 COVID-19, Seasonal Tips, Ears, Nose, Throat
Differentiating Between COVID-19, Seasonal Allergies and Flu
When it comes to the coronavirus (COVID-19), seasonal allergies and the flu, they all share some similar symptoms such as sore throat, runny or stuffy nose, and cough. So which one are you suffering from?
To know for certain, you need to set up an appointment with your doctor so he or she can evaluate you and determine if further testing is needed. In the meantime, according to Medical Director of Bayhealth Medical Group John Fink, MD, MSHQS, there are a few key differences between coronavirus, seasonal allergies and the flu that you can keep in mind.
Flu and COVID-19 symptoms can both come on fast. Flu symptoms usually develop within four days of an exposure, while COVID-19 symptoms can develop anywhere from one to 10 days after exposure.
With seasonal allergies you generally don't have a fever or body aches, but you might feel run down and could have a sore throat. Symptoms are also pretty continuous and don't escalate.
Allergies don't usually cause troubled or heavy breathing, unless you have asthma. So if you have troubled or heavy breathing, it could be coronavirus or the flu.
If you have itchy eyes, nose or throat, those symptoms are associated with allergies.
In terms of what to do for COVID-19 or flu symptoms, Dr. Fink says it's important to remember to stay home from work or school and to isolate yourself from other family members to help prevent spread of the virus. "Don't share drinking glasses or utensils with others, practice really good handwashing, and make sure you're disinfecting surfaces, including doorknobs. If you must leave the house, be sure to wear a mask. Lastly, don't just walk into your doctor's office. Be sure to call ahead," said Dr. Fink.
To learn about coronavirus testing or vaccinations, please contact your primary care physician or visit the Delaware Division of Publics Health's (DPH) coronavirus resource center at Coronavirus.Delaware.gov. You can also reach DPH by calling 1-866-408-1899 or emailing DPHCall@Delaware.gov.
Visit Bayhealth.org/COVID-19 for coronavirus information specific to Bayhealth including visitation policies, testing, FAQs, and more.