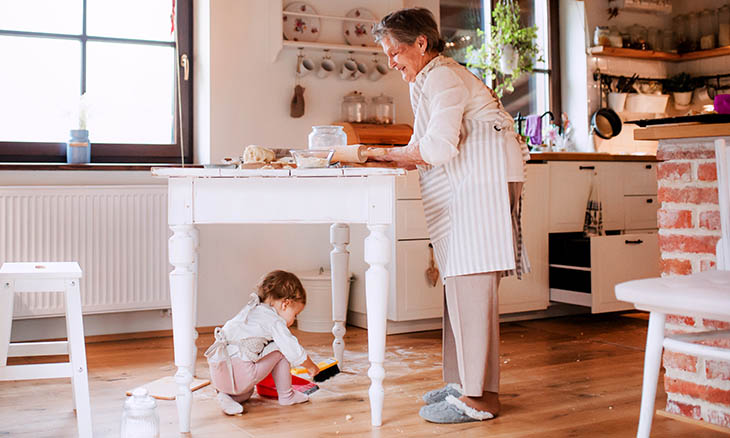 Healthy Aging, COVID-19, Seasonal Tips, Emergency Care
Preventing Falls During Colder Months
As the colder months get closer, and the potential for spending more time indoors continues, it's essential to think about falls prevention. According to the Centers for Disease Control and Prevention (CDC), more than three million older adults are treated for falls in emergency departments across the country each year. More than 800,000 patients are hospitalized as a result of these falls.
Diana Curtis, RN, MSN, trauma registrar at Bayhealth and chair of the Delaware Falls Prevention Team says planning is crucial when it comes to falls prevention. "There are lots of simple steps we can all take to improve safety in and around our homes. There are also additional considerations to keep in mind in light of the COVID-19 pandemic," she said.
Clear Line of Sight
First and foremost, it's important that older adults can see where they are going. The colder months can sometimes lead to an issue with glasses fogging. Additionally, many people have noticed their glasses are fogging up more often while wearing a facemask.
"It's important for everyone to take the time to clean their glasses whenever they are fogged to maintain a clear line of sight at all times," said Curtis. "I've found that making sure the nose area of my mask is tightly secured has helped minimize fogging while wearing my facemask."
Doctor Visits
It's also important for older adults to make sure their vision and hearing screenings as well as medications are up-to-date.
"Typically, we encourage our older population to maintain their schedules for doctors' appointments," said Curtis. "During COVID-19, some people may prefer to not visit a medical office. The great thing is many offices are now using telehealth and other ways to stay connected with their patients. Something like a medication review could easily be done virtually to help protect vulnerable individuals."
For instances where an in-person visit is needed, patients should rest assured knowing all medical practices are following guidelines and protocols to ensure safety.
Ground Safety
All individuals, including older adults, need to be especially mindful of where they're walking. "In the winter time, this means making sure there isn't any ice outside before leaving the house. Don't forget to take extra precaution when parking. Many times, people don't realize they've parked on an icy patch and experience a fall while trying to get out of their vehicle," said Curtis.
Another consideration is footwear and indoor clutter. The best shoes to wear to prevent falls are those with rubber or neoprene soles. They will provide the most grip. Additionally, if there are any grandparents doing double duty right now helping with childcare, make sure to check for clutter on the floor. Toys and other small objects could easily cause a fall.
Distracted Walking
While it sounds silly, multi-tasking while walking is a big culprit that causes falls.
"You should always have both of your arms available whenever walking to help establish and maintain your balance. That means you should never be walking while looking at your phone. It also means you shouldn't be carrying a lot while walking either," said Curtis.
Virtual Resources
There are many resources available for older adults to help with falls prevention. The National Institute of Aging has many online resources that can be found here.
"Keeping yourself safely active can help prevent injuries," said Curtis. "Even in the colder months it's important to get outside when you can and get some fresh air. When that's not an option virtual resources are a great alternative."
Share This With Your Friends