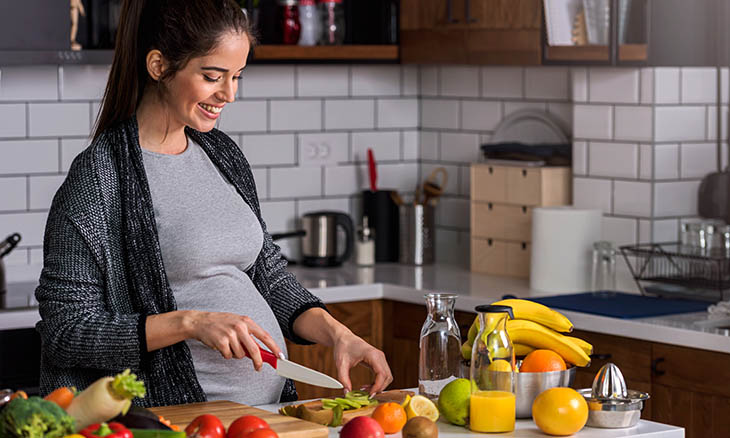 Nutrition During Pregnancy: 10 Tips to Get You Started
Making healthy food choices is vital to overall health and wellness. And, as Bayhealth Family Medicine Doctor Kandis Samuels, MD, MPH, explains, when you're expecting, following this advice is especially important. Adequate nutrition during pregnancy will help make sure you and your developing baby stay healthy and strong. You can make an appointment with Dr. Samuels by calling 302-725-3200.
"Beyond basic nutritional requirements for mom and baby, some women also need to be mindful of what they eat during pregnancy to achieve or maintain a healthy weight. If you have a family history of gestational diabetes or preeclampsia (pregnancy-related high blood pressure), you also need to keep a close tab on the foods you eat," explained Dr. Samuels, who provides gynecological and pregnancy care for women along with care for the entire family. She's now accepting new patients.
To help ensure moms and babies get the nourishment they need and to address special conditions such as gestational diabetes or preeclampsia, Dr. Samuels shared the following tips to get you started on the right track.
Eat regular meals and snacks. Aim for three meals and three snacks per day.
Try to include protein with most of your meals and snacks. Examples of foods high in protein include eggs, nuts, nut butters, cheese, and beans.
Eat foods high in fiber such as fruits and vegetables.
Limit or avoid foods high in sugar. Read the ingredients on the label and avoid any foods that have the following in the first four ingredients listed: sugar, honey, corn syrup, fructose, dextrose, glucose, and corn sweetener.
Avoid lunch meats, hot dogs and deli meats. These aren't only high in sodium, but they are associated with a foodborne bacterial illness called listeriosis, which can cause pre-term delivery, spontaneous abortions and other complications.
Avoid soft cheeses like feta, Brie, Camembert, blue-veined, and queso, and raw or unpasteurized milk, as these are also associated with an increased risk of listeriosis.
Limit Albacore tuna and tuna steak to no more than six ounces per week and avoid eating shark, swordfish, jack mackerel, and tilefish due to their high levels of mercury. Mercury is a human neurotoxin and can cross into the placenta and damage the baby's nervous system.
If you want to eat fish or other seafood, eat ones high in omega-3 fatty acids such as salmon, herring, anchovies, sardines, and trout. Shrimp, pollock, catfish and cod are also safe choices. But, per FDA and EPA recommendations, you should limit the amount of seafood you eat to 12 ounces per week.
Limit or avoid fried foods. Bake, broil, boil or roast your meat, fish, and vegetables instead.
Never go more than 10 hours without eating.
Following these tips related to nutrition during pregnancy, along with any other recommendations from your healthcare provider, will give you and your baby the best chance of a healthy pregnancy.
If you don't have a doctor and would like to make an appointment with Dr. Samuels in her office in Dover, call Bayhealth Family Medicine, Dover at 302-725-3200.
Share This With Your Friends